Ten Chevening Alumni have been selected to do placements in different departments of the BBC World Service, a highly respected British institution, over a period of three months.
We are sharing their stories, thoughts, and videos from their time at the World Service through our rolling #MyCheveningJourno blog.
We'll be posting regularly on this page as new content comes in from our talented team of journalistic alumni, so check back again soon for more! 
More information on the placements can be found here.
19 November - Chris Charamba
Look mum, I'm on TV: BBC Africa TV experience
At the beginning of November, the BBC opened its largest bureau outside the United Kingdom in Nairobi, Kenya.
With the launch of the bureau came new programmes such as #TheSheWord, a pan-African discussion programme hosted by and targeted to African women.
Another programme is Money Daily, a business show which focuses on telling economic news from around the continent.
Last week I had the privilege of being invited on to Money Daily to talk about the Zimbabwean economy. This was my first time venturing into TV in any capacity as my career has primarily been in print and some radio broadcasting.
I connect to Nairobi, where Money Daily is broadcast, from the BBC building in London. The 'DTL' or 'down-the-line' interview with Maya Hayakawa, the show's presenter, lasted roughly three minutes, which goes by faster than you can imagine.
What took some getting used to, and felt a bit odd, was talking to someone I could not see and having to remind myself to stay focused and look directly into the camera.
Overall I did enjoy myself and I am grateful for the opportunities that this BBC World Service placement has provided me. I certainly am looking forward to more ventures in front of the camera.
You can catch my full interview on BBC Africa's Money Daily here.
12 November - Chris Charamba
Five questions for Komla Dumor award-winner Waihiga Mwaura
Our start at the BBC coincided with that of the 2018 BBC World Service Komla Dumor Award winner Waihiga Mwaura, a TV anchor from Kenya.
The award was established to honour the legendary African journalist Komla Dumor, who died in January 2014. It aims to continue Komla's legacy by celebrating African journalism and finding exceptional talent.
Being part of the BBC Africa team, I've had the pleasure of working with Waihiga, and learning from someone who has been the face of news in a fellow African country.
I caught up with Waihiga and asked him a couple of questions about his time here at the BBC and in London.
25 October - Dina Murad
My first day at BBC World News - HARDtalk was a memorable one
'Upon finding out that I was Malaysian, my supervisor said to me: "What a coincidence; we will be interviewing the Malaysian Prime Minister in two weeks. Maybe you can help us with that."
And so that was how I came to assist in the production of the interview between BBC HARDtalk presenter Zeinab Badawi and Mahathir Mohamad.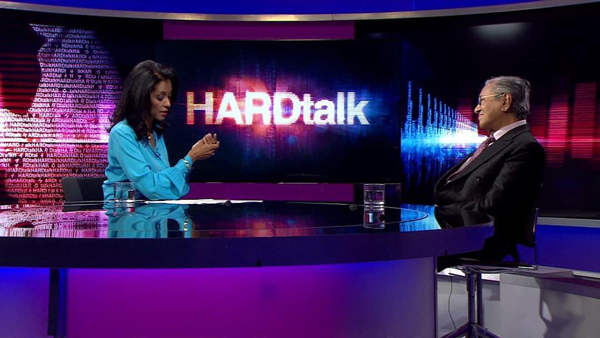 The team works hard and at a very fast pace. I was still getting used to the work environment and what was needed of me, but, on the plus side, I am familiar with current discourses surrounding Malaysian politics. This allowed me to assist in research/production of the team's news brief and in the tasks required on the day of the interview. 
HARDtalk has more interesting personalities lined up, and I'm looking forward to future projects.'
8 October
Placements get underway
How exciting - our scholars' BBC World Service placements have begun!
Here are our selected ten outside BBC Television Centre in central London.
Benon Herbert Oluka posted this photo with the caption: 'Glad to be one of the ten scholars from the Chevening class of 2017/2018 who was selected for a three-month work placement at the BBC in London.
'My Chevening journey continues!'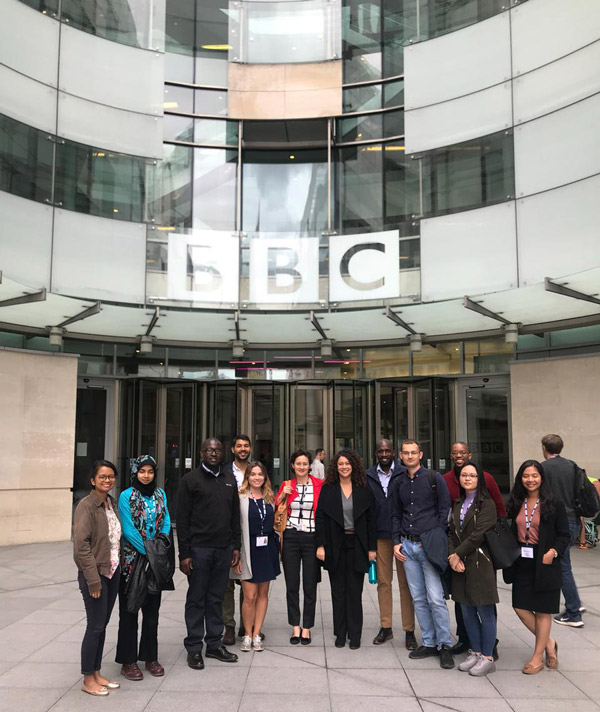 Our 2018/2019 cohort
Benon Herbert Oluka, Uganda, University of Leeds
Newsday
Maryam Azwer, Sri Lanka, University of St Andrews
BBC Monitoring
Jacinta Dillon, Argentina, LSE
Solutions-focused journalism / Spanish Latin American service
Dina binti Ahmad Murad, Malaysia, King's College London
World News Hard Talk
Chris Charamba, Zimbabwe, University of Glasgow
African Service in English
Artsiom Shraibman, Belarus, LSE
Russian Service
Nuraidila Binti Abdul Razak, Malaysia, Goldsmiths, University of London
South East Asia Digital
Lara El Gibaly, Egypt, Goldsmiths, University of London,
Arabic long form
Mengchou Cheng, Cambodia, University of Nottingham,
The Enquiry / radio current affairs
Diego Arguedas Ortiz, Costa Rica, King's College London,
BBC.com