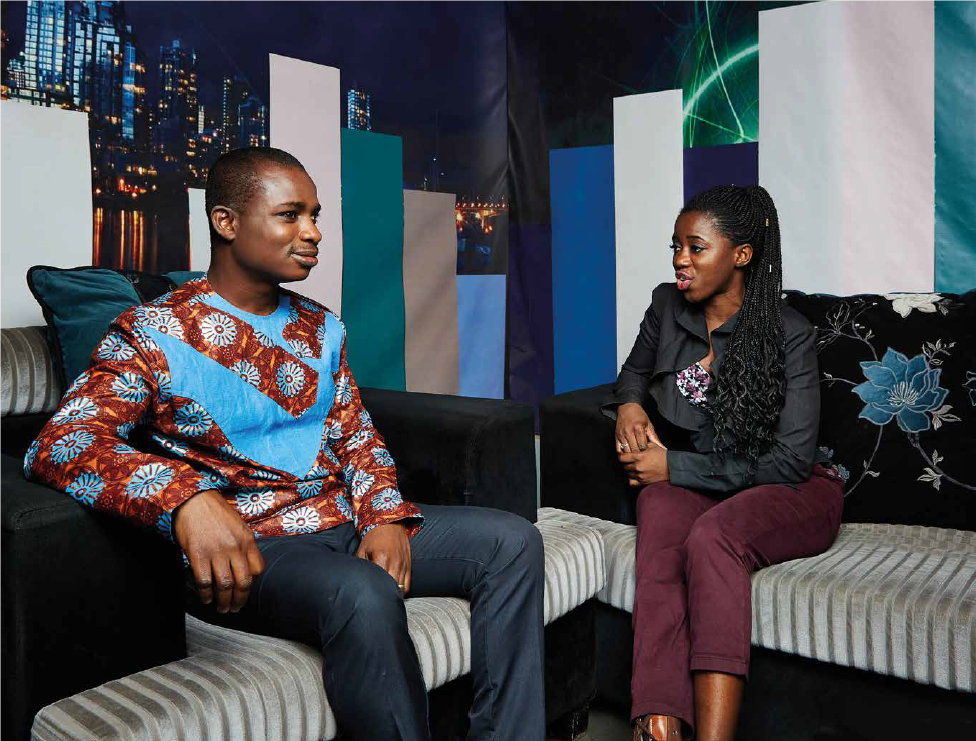 Chevening Alumna Gloria Williston discovers how visually impaired journalist Paul Anomah-Kordieh is challenging people's perceptions of disability.
This article is taken from Distinction – the Chevening Magazine
Outwardly perhaps, Paul Anomah-Kordieh wasn't a typical teenager. But despite being born visually impaired, he still had hopes and dreams. Like many young people in the1990s, he enjoyed listening to the radio. One day however, he tuned into his favourite station only to hear the presenters making demeaning 'jokes' about disabled people. To them, it no doubt seemed like a bit of harmless fun. It probably didn't cross their minds that the radio was the easiest way for someone like Paul to consume information about the world he lived in. What they didn't know was that he was deeply affected by those comments. However, rather than be discouraged by their mockery, the incident strengthened his desire to prove a point to a society that underestimates and ridicules disabled people. Fast-forward to the present day and Paul is proud to be one of only a handful of visually impaired newsreaders in the world.
Growing up as one of seven children, Paul had his own ambitions. However he felt he should balance them against the needs of his family, as well as the limitations his circumstances might impose on him. Despite always wanting to be a journalist, a career in broadcasting didn't seem like a viable option fora young blind man in 1990s Ghana, so Paul studied for a degree in education instead. 'I wasn't confident that I'd find a job if I went to media school,' Paul readily confesses. 'Because I come from a poor background, I didn't want to finish my studies only to end up sitting at home unemployed. 'Paul is a lifelong advocate of pursuing education no matter one's physical circumstances. Thinking of teaching as a more secure career path that would still enable him to impart knowledge to others, he took the safer option. But to a hungry lion, even the taste of a captured lizard is no match for the scent of a nearby antelope. Paul followed the scent.
---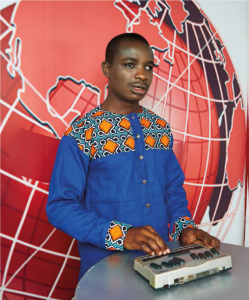 A NEW OPPORTUNITY
Paul carved out an opportunity at a university radio station and soon realised that he was compelled to pursue broadcasting as a career. This was despite being aware of the risks, and despite having no role models who shared his circumstances to look up to. Motivated to seek a way into the media industry, he made efforts to find a job in the sector. However, as he'd originally feared, his additional needs and society's ingrained perceptions of disabled people rendered his initial efforts to find such a job unsuccessful. 'When we accept that we are all one people, we can treat each other fairly,' Paul says, as he reflects on the importance of providing people with disabilities with equal opportunities. 'Parents, government, and the general public should accept that persons with disabilities are equally a part of society. Where there's inclusion, that can lead to other opportunities. 'For Paul, that opportunity came when Happy FM, a radio station based in Ghana's capital, Accra, offered him an exciting job. Paul took this as a chance to prove that he was no less competent than any other employee, despite having additional needs. And he proved himself right. The teenage boy who used to listen to the radio, was now presenting on it. This should be the end of the story, but this is Paul Anomah-Kordieh.
TELEVISION HISTORY
At 4:30pm on 15 November 2010,Ghanaians witnessed television history. For the first time in Ghana, probably in Africa, and quite possibly in the world, viewers saw a blind newsreader using his fingers to deliver a news bulletin live from their braille script. Speaking of the significance of this momentous occasion, Paul simply says, 'I needed to be there to let people see our capabilities.' With the support of his co-workers, combined with his own determination and improvisation, Paul proved to be a huge hit amongst colleagues and audiences. Several years and numerous awards later, he nowhosts his own show on e.TV Ghana, which focuses on current affairs and empowerment. Paul advocates for social inclusion that can elevate the aspirations of disabled children, and believes that parents and teachers are key to building their confidence. There's an urgent need for those disabled children who are mentally capable to be provided with the necessary resources to be included in mainstream schooling. Inclusive societies cannot be forged under a segregated system of education. 'If you give the child with disability the opportunity, you might unearth talents that you never dreamt of,' he explains. 'Who would have thought that a blind boy would grow up to be able to read the news? The opportunity arose because someone thought that, although he's blind, he can still use his fingers to read.'
FULFILLING OUR PURPOSE
As the first visually impaired newsreader in Ghana, Paul's sheer determination to change perceptions about people living with disabilities makes him a trailblazer. Since he first appeared on screen, other newsrooms around the world have also hired visually impaired newsreaders. Journalism as a profession now seems to be far more accessible to those living with disabilities. Again, this should be the end of the story, but this is Paul. If meeting him has taught me anything, it's that Paul is not to be underestimated. He now runs a charity that provides children with disabilities with the tools, training, and support that they need to flourish academically and socially. 'Every single child with a disability is capable of realising their potential if they're given the right assistance, 'Paul says, asserting his own lived truth in doing so. 'We're created fora purpose and that purpose must be fulfilled.'
---

About the author – Gloria Williston is a Chevening Alumna (2018) with an MPA in Public Administration from the University of Leeds. Gloria lives with a disability herself, and she is passionate about promoting inclusive education for those with disabilities in her home country of Ghana.
Read more articles from Distinction