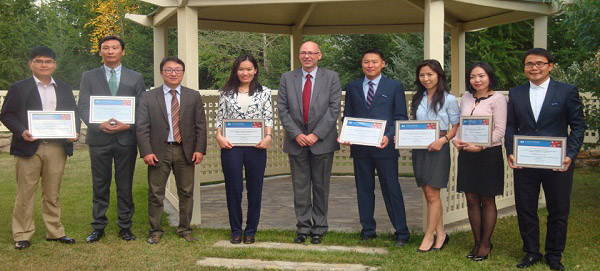 British Ambassador hosts farewell event for Mongolian Chevening Scholars
Seven Mongolian students were awarded Chevening Scholarships for 2014/2015, the highest number in the history of the scheme.
On 10 August 2014, the British Ambassador to Mongolia, Christopher Stuart, hosted a farewell event for the seven successful Chevening Scholars from Mongolia on the eve of their departure to the UK.
This year's scholars, the highest number ever from Mongolia, will be studying a range of subjects including finance, management, law, international culture and economics. It is also the first year that the Chevening Programme has partnered with the Mongolian Ministry of Education and Science, leading to the highest number of scholars from Mongolia in a single academic year.
At the opening of the event, Ambassador Stuart said that:
"The Chevening programme provides a unique opportunity for Mongolia's future leaders to build a global network and establish social, cultural, academic or commercial partnerships with the UK and we are very grateful for the support of the Ministry of Education and Science.
"With Chevening celebrating its 30th anniversary this year, it is fitting that the highest number of Mongolian scholars will be studying in the UK and I hope to see even more applicants applying for places across a range of subject areas on this prestigious programme."
Senior members of the UK Alumni in Mongolia group also attended the event, including past Chevening alumni, who were able to share their experiences of studying in the UK.
Applications for Chevening Scholarships in 2016/2017 are currently being accepted. The closing date is the 3rd of November. For more information visit www.chevening.org/apply