After an abrupt disruption in her studies because of the COVID-19 pandemic, Dr Sia Morenike Tengbe, a medical doctor and public health professional from Sierra Leone, changed the subject of her dissertation to benefit the people of her country during these uncertain times. From a project focused on reproductive health, she changed the topic to the mental health effects of the pandemic on workers in her home country. An advocate for reproductive rights and passionate about improving her homeland's situation, our alumna graduated this year with a Master's from Liverpool School of Tropical Medicine (LSTM)
'Growing up I wanted to be a pilot and not a doctor, although this slowly changed after my dad suffered a stroke and I assisted him in his recovery. Looking back, I am certain I made the right choice, as this way I'm touching more lives and serving humanity through medicine.
Before I came to the UK for my masters, I worked for the Ministry of Health and Sanitation Sierra Leone providing maternity and reproductive care. My work was focused around my passion which is to improve the sexual and reproductive health status in the country, as we have one of the world's highest maternal mortality and adolescent pregnancy rates.
While working, I realised that to provide quality care, raise awareness and advocate better for my patients, I required further training in public health. I knew about the Chevening Scholarships and the many doors it opens, so I had to apply.
After a short period of adjustment which I credit to the welcoming people in the city of Liverpool and sightseeing trips to Wales and Northern Ireland over Christmas, the new year (2020) meant I had to focus on my dissertation and then the COVID-19 pandemic hit. Adjusting to life during these dire times was stressful as my established academic rhythm was disrupted with classes being paused before the switch to online lectures. These changes also meant the interactions with friends and lecturers on campus and access to the school's facilities including the library was lost.
My family, friends, faith and resources from LSTM and Chevening helped my readjustment process and I started to work on my new dissertation as my initial topic had to be changed as overseas research was unfortunately cancelled over safety concerns. Upon discussion with my supervisor and reflecting on the events unfolding across the world, we decided to conduct research that captures the psychosocial impact of outbreaks on healthcare workers in Sierra Leone, as the country had been through a similar situation during the 2014 Ebola outbreak.
I was excited about the project as I could relate, being a healthcare worker, and felt even though I couldn't join the fight, the research would help shed some light on their experiences, sacrifices and raise awareness to support the provision of psychological and mental healthcare services for healthcare workers, which is often forgotten. The distance also meant I had to be creative, relied on established networks and communications and adopted technologies such as Zoom and WhatsApp to collect rich data for the research.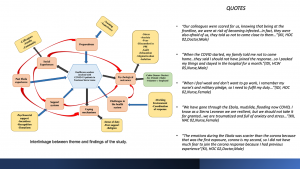 Overall the whole dissertation as with the Chevening experience was challenging, required hard work but was worth it especially when the school decided to partner with me and make a video to share the finding of my research to raise awareness during the World Organization Mental Health day. While doing the video, I felt elated as I couldn't have predicted at the start of my Chevening journey that I would be sharing my dissertation with the world.
My advice for Cheveners this year is to make use of all the opportunities available even though it may look different than what you hoped. Take advantage of all the virtual resources/conferences and enjoy them. Don't be shy to reach out and make friends virtually or through social distance. Above all, stay safe and follow the rules.'