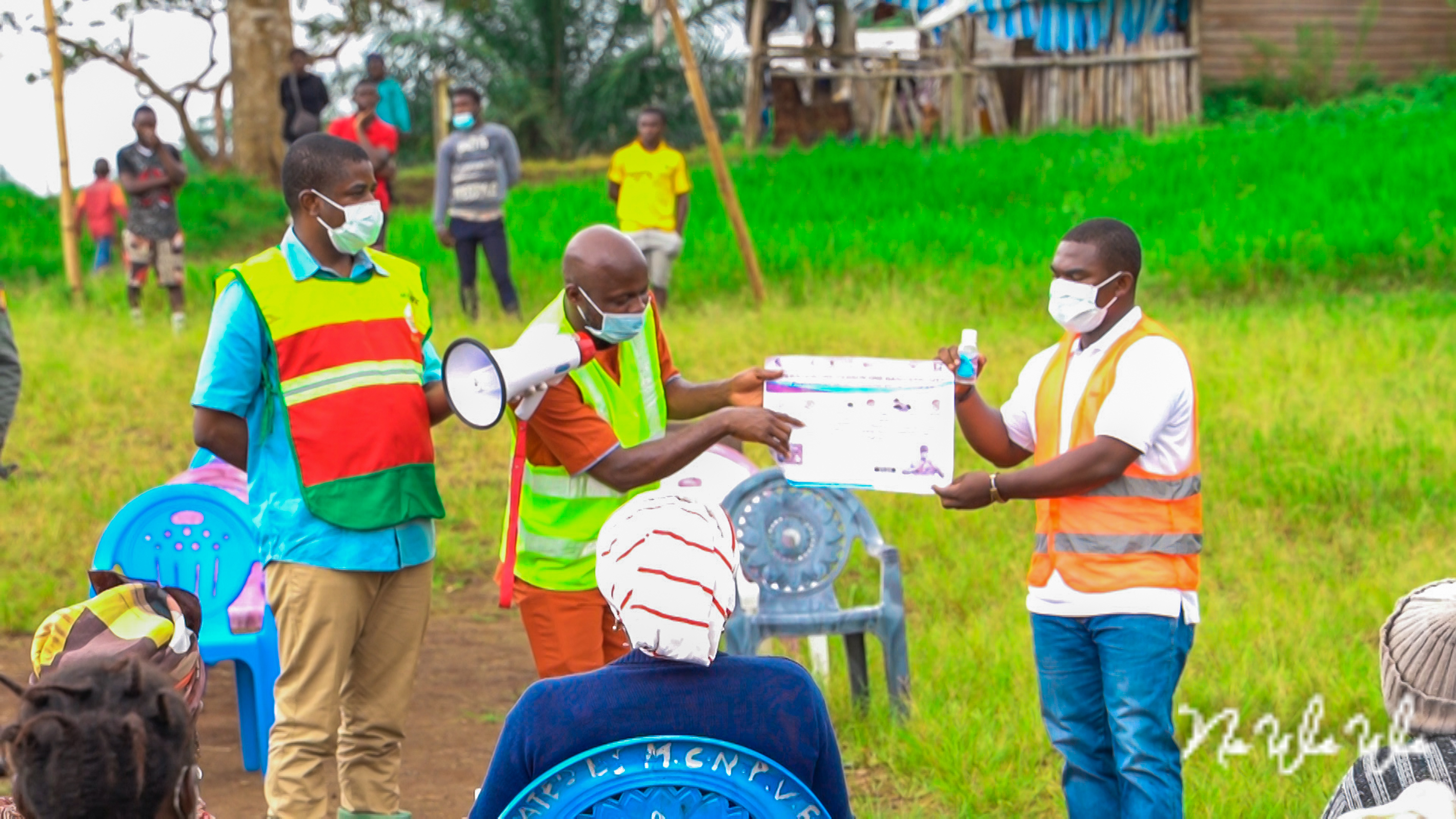 One Person, One Hand Santiser: keeping communities safe from COVID-19
Achaleke Christian is a Chevening Alumnus from 2016, graduating from the University of Birmingham with a masters in International Development. In 2018 he won the Outstanding Youth Peaceworker category at the Luxembourg Peace Prize. Here he tells us about his new campaign, manufacturing and donating hand sanitiser to communities in Cameroon.
The One Person One Hand Sanitizer initiative is a youth-led initiative that adopts a peace building approach to the prevention of the spread of COVID-19, and builds community resilience in Cameroon, focusing particularly on vulnerable communities.  It involves the mobilisation of young people from all occupations to engage in the production and donation of hand sanitizers and other PPE to Cameroonian homes. The initiative also works to improve understanding of how to stop the spread of the virus, prevent panic using different local languages, and counter misinformation and hate speech. The initiative was inspired by the scarcity and increase in prices of PPE, which resulted in fear and panic in communities across Cameroon.
To implement this initiative, we transformed our office into a COVID-19 Rapid Response Laboratory and formed a coalition with young bio-medical scientists to facilitate the production of the hand sanitizers. We also put out an open call for volunteers to serve in the different areas of production, distribution and sensitization. Finally, to produce the other types of PPE, we collaborated with internally displaced people from the conflict affected regions and Prison-Preneurs (former inmates whom we had trained in vocational skills and entrepreneurship while they were in prison).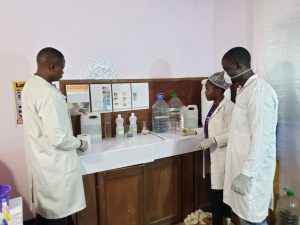 The initiative was approved by the Ministry of Public Health, Ministry of Youth Affairs and Civic Education and the United Nations Clinic in Cameroon. So far we have been able to produce 20,000 bottles of 100ml hand sanitizer and distribute them to homes in 100 communities, with over 40,000 people using the sanitizers. We have also reached over 70,000 people in 95 communities with information about keeping themselves safe.
Funding for this initiative was a bigger challenge but the availability of volunteers is making the process easier. We also had to divert funds which were supposed to be used for our annual retreat as well as funds from the recent award which I received. Also we mobilised funds locally through community groups and other civil society organisations.  
This project started on 14 March as the virus had spread in Cameroon and the cases were increasing daily. At the same time, some individuals had created an artificial scarcity of preventative kits, causing prices to drastically increase. Our office wanted to purchase hand sanitizers, but we realised that the price had doubled. This kept us so worried! On the 14th I had a popup notification which talked about a local production of hand sanitizers at home. When I read it, I realised it was possible for us to produce it ourselves in the office. My colleagues and I went to the market and bought alcohol and glycerine. We ran the first round of production and it worked.
I called for an emergency staff meeting on the 15th and proposed the initiative to my team. We started brainstorming the project design as well as the fundraising strategy. Our critical need was to find young people with expertise in bio-medical sciences. I reached out to some of our contacts with expertise in that field; they expressed their willingness to join the initiative. Thus, we found ourselves six young volunteers with backgrounds in medicine, and we later did a public call for volunteers through our media platforms. So far over 500 young people are volunteering in this initiative.  We decided to launch the initiative and, with the  laboratory set up, we started production. As time went on, we decided to bring in peacebuilding models: working with existing peacebuilding institutions and focusing on building resilience of communities while responding to issues of hate speech, misinformation and many other outcomes of the pandemic.
One of the main challenges we had was actually starting up the initiative since it was on a zero budget. Another major obstacle was getting all the required raw materials for production because of the artificial scarcity created in the market.
We were able to overcome these challenges due to the coalition that we'd created. We made use of the voluntary service offered by young people. They have been working on all areas of production, from those in the laboratory, to all those helping with the labelling, packaging, and shipping of the hand sanitizers. There are also young people in the communities who have been leading in communicating good practice and the use of these products. The biomedical field also had a network that we took advantage of. So far, the testimonies we have received are positive and people are very happy with our work. Over 50,000 people are benefitting from the hand sanitizers, and our actions have touched the lives of many more young people.
So far in the project, the watch engineer who is part of the coalition volunteering for the project is also a 2019 Chevening Scholar and we have been collaborating to build more resilience in our communities. The British High Commissioner has also been communicating with us through social media and sharing what we do to inspire many others.
I think the future of this project is to reach more people with our preventative kits, and to be more innovative and creative in spreading our message. We must also see how we can prevent future conflicts from escalating because the pandemic creates a challenging lanscape. As a peacebuilding institution and peacebuilders, our goal is to see how we can respond in line with our core values and ensure that we are able to build peace while responding to COVID-19. If we can produce 100,000 of these products it will help keep people safe and reduce the panic and hate speech. I envisage myself and the team I am working with at the centre of the youth-led fight against COVID-19 in Cameroon.
07/12/2020 update: Since this article was first published, One Person, One Hand Sanitiser has gone on to donate over 90,000 bottles of 100ml hands sanitiser across eight regions of the country. They now have 1700 young people working as volunteers, both in production and in community outreach. Their information programme has reached 2 million people online and in person to date. The project only continues to grow.