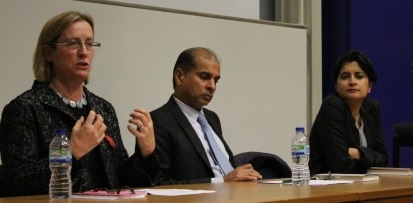 Chevening Gurukul Fellows and London based scholars turned out at King's College last night for the annual King's Chevening Distinguished Lecture.
This year's speaker was none other than Shami Chakrabarti, one of the leading human rights campaigners in the UK, and a lady who was once described by The Sun newspaper as 'the most dangerous lady in Britain.'
Shami spoke enthusiastically about her passions, including Liberty, the organisation she is head of, offering interesting arguments and posing some tough questions to those in the room.
She also touched on privacy, arguing there is an essential need for privacy for society to function, while acknowledging that as humans, we give up a certain degree of privacy the moment we form relationships.
Shami opened up the floor to questions after giving her compelling talk, and received one or two curveballs from those keen to engage, yet she was still able to discuss and argue her points.
Scholars and fellows were invited to join Shami at a small reception afterwards, allowing them the chance to ask more questions and get to know her on a personal level.
Benita Ho, Fellowships Officer at Chevening, was delighted with how the evening went. "The Kings Chevening Distinguished Lecture highlights the importance of the Gurukul Leadership Programme in continuing international dialogue on a range of humanitarian issues.
It was great to see such a big turn out and I was delighted with the enthusiasm our fellows and scholars showed towards Shami."
A few pictures from the evening:
Gurukul fellows reading while they wait for Shami to arrive
Gurukul fellows networking at the reception
Professor Evelyn Welch, Vice-Principal (Arts & Sciences) at King's 
College, Professor Sunil Khilnani – Director of the India Institute at 
King's College and Shami Chakrabarti
Promotional materials for Liberty, the organisation Shami heads