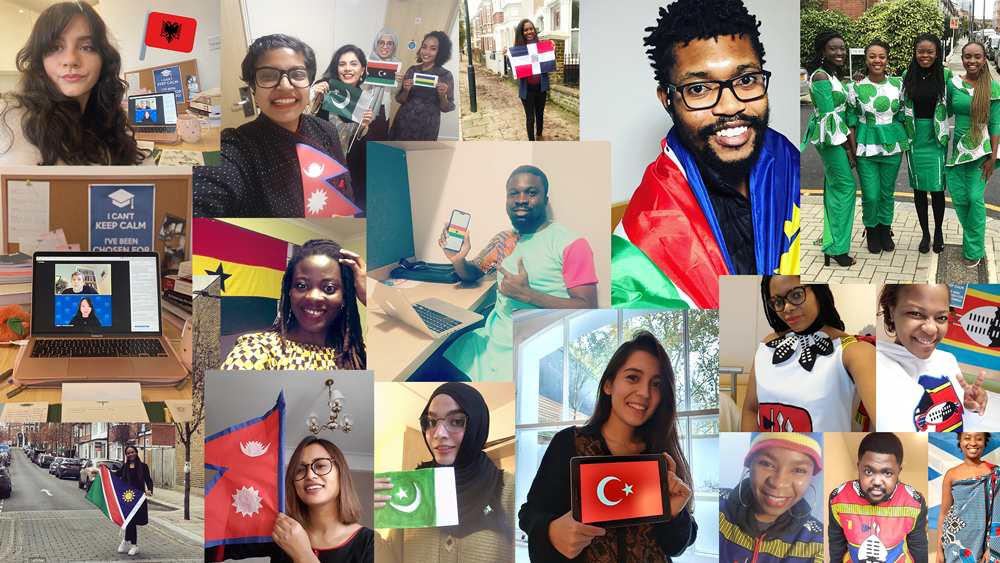 1,370 scholars from 144 countries were formally welcomed to the Chevening programme at the beginning of an exciting year studying in the UK at Chevening Orientation on 11 November.
Orientation marks the start of scholars' time in the UK, with the event taking place virtually this year due to the Covid-19 pandemic.
Scholars were congratulated on being awarded the scholarship. With 60,000 applications received to study in the UK in 2020, they represent the successful two per cent. 1,250 of the cohort had arrived in the UK to begin their postgraduate course, with 120 currently studying remotely.
Naomi Rayner, Head of the Scholarships Unit at the Foreign, Commonwealth and Development Office (FCDO), said: "You have all shown resilience, commitment, and courage; you've shown why you are future leaders. The pandemic has meant this isn't quite the scholarship you imagined, but you have all adapted."
Vijay Rangarajan, Director General for the Americas and Overseas Territories at the FCDO, encouraged scholars to enjoy the cultural events organised for them, travel as much as is possible, and enjoy building up that network of your fellow Chevening Scholars.
He said: "There are 50,000 Chevening Alumni around the world. Whilst I'm not trying to set the bar too high, quite a few of them are heads of state and government. You never know who you have with you now who could be a very important person in the future."
Nick Bridge, the FCDO's Special Representative for Climate Change, delivered the Orientation keynote speech. Mr Bridge outlined how a year of intensive climate diplomacy lies ahead of the UK hosting the 26th UN Climate Change Conference in Glasgow, Scotland.
Mr Bridge encouraged scholars to act on climate change and said: "The single biggest moment of positive shift in the sustainability agenda was when the voice of young people started to break through.
"Be demanding of your teachers, learn as much as you can, and think about how to bring your knowledge of sustainability back home."
Scholars then heard from Chevening Alumna Mirta Aguirre (2015), who explained how developing a "yes" mentality led her to Chevening, and to other pivotal points in her career. Mirta encouraged scholars to say yes to being creative, learning, and taking opportunities when they are presented.
The Chevening programme team then presented to scholars on how to make the most of their year in the UK, and where to turn for guidance and support if they face challenges.
The event came closed following scholars waving their country flags, an exciting moment during any Chevening Orientation event. Scholars shared their photos on the #IAmChevening hashtag on social media, demonstrating the diversity of the global Chevening network who will study and experience life in the UK this year.