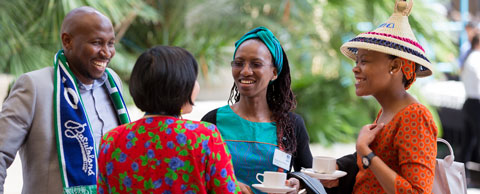 Scholars welcomed into alumni network at largest ever Farewell event
1,800 Chevening Scholars gathered at London's iconic Alexandra Palace on Monday, 11 July to celebrate a successful year as part of the programme. It was a chance for scholars to say goodbye to one another, commemorate a year of study and cultural activities in the UK, and also to open up new opportunities as the scholars transition into the global Chevening Alumni network. They were joined by Chevening Alumni, representatives from partner organisations, and staff from the Foreign and Commonwealth Office (FCO) and the Chevening Secretariat.
Scholars were welcomed to Farewell 2016 by Andrew McHallam, Head of the Scholarships Unit at the Foreign and Commonwealth Office.
Andrew McHallam, Head of Scholarships at the @foreignoffice, opens the afternoon proceedings. pic.twitter.com/R7MczvPRvF

— cheveningfco (@cheveningfco) July 11, 2016
Ruth Shaw, Head of Campaigns and Engagement at the FCO, said that scholars had just spent a year studying 'in some of our finest universities and gained qualifications and experience which will benefit [them] for years to come'.
Shaw also paid tribute to Chevening Partners, including the 'institutions, organisations and individuals that have hosted, mentored and worked with our scholars'.
Farewell event, saying goodbye to many of the amazing people I've met this year @UKinParaguay #CheveningMemories pic.twitter.com/6UqaRVmg1i

— Pablo E. Ramírez (@peramirez) July 11, 2016
Although Farewell 2016 marks the end of the year for the class of 2015/2016, it also heralds scholars' entry into an exclusive and influential club – Chevening Alumni – a global community of over 46,000 leaders, influencers, and people of excellence.
Shaw said: 'Chevening Alumni are leaders in all kinds of field – politics, business, public service and science to name just a few. Many alumni have found this worldwide support network to be hugely beneficial to their careers.'
Aba Quartey, Senior Alumni Relations Officer, spoke about the opportunities available to alumni. She encouraged all scholars to sign up to Chevening Connect, keep in touch with the Secretariat, and be part of this worldwide network.
Quartey said: 'You are part of a global community of the best and brightest. These include CEOs and entrepreneurs like John Momoh of Nigeria, ministers like Hala Lattouf of Jordan, and artists like author CM Patha, or Emmy Award-winning film director Qi Zhao.'
Nick Hungerford, CEO of online investment company Nutmeg, delivered an inspiring speech to the assembled scholars about his journey from banker to digital entrepreneur. 
Risk is not doing something. Risk is not, not doing something – @nickhungerford #CheveningMemories #keynotespeech

— Grace Kenganzi (@gkenganzi) July 11, 2016
'Lead a life with purpose.' @nickhungerford @chevening #CheveningMemories

— Ruth Shaw (@ruthvshaw) July 11, 2016
Hungerford urged scholars to use their experience, knowledge and skills to create positive change in the world. He quoted Winston Churchill when he said: 'We make a living by what we get. We make a life by what we give.'
In the spirit of Churchill's quote, Ruth Shaw praised the many scholars who volunteered for various causes throughout the year, including Oxfam, Trees for Cities, the Marine Conservation Society, and Hope Pastures Horse and Pony Sanctuary.
Special thanks went to over 140 scholars who had participated in official volunteering events during their year in the UK. 32 scholars were highlighted in particular for choosing to give back over 25 hours of their time to charitable causes in the UK. 
The event finished with a networking reception on the terrace of Alexandra Palace which boasted spectacular views across London. 
Every new beginning comes from some other beginning's end. https://t.co/ftgTOoOSpf #CheveningMemories pic.twitter.com/R6kSnxZrEu

— cheveningfco (@cheveningfco) July 12, 2016
Chevening Instagram boards, #IAmChevening place cards and a selfie-booth were available for scholars to capture their final UK-based #CheveningMemories. There were also congratulation videos from worldwide alumni available for the class of 2015/2016 to take inspiration from as they continue their journey as Chevening Alumni.
Michael Scott-Kline, Director of the Chevening Secretariat, said:
'Chevening Farewell 2016 was our largest ever, reuniting our latest cohort of scholars to celebrate their year of academic success and learning about Britain – its values, institutions, and customs.
'The energy scholars brought with them to Farewell leaves me in no doubt that, if they use the knowledge, skills, and contacts they've made in the UK, they'll go on to achieve great things with each other and their friends in the UK.'
You can find a gallery of photos from the day on our Facebook page.