'Help shape the future by taking it seriously, and by taking responsibility for it.'
– Colin Smith, Head of Projects Task Force at the Foreign and Commonwealth Office
---
130 Chevening Scholars shared ideas and insights on leadership at the University of Bristol on Friday, 6 April at the fifth annual Chevening Conference.
Chevening Conference is the third-largest event in scholars' yearly programme of events, and it gave attendees the opportunity to learn about leadership from other scholars, as well as to hear talks from senior academics and staff from the Foreign and Commonwealth Office (FCO).
The conference theme was 'inspiring change in a globalised world', a broad topic allowing scholars from a range of subjects to share their thoughts and research in different categories.
Scholars were welcomed to Bristol by Dr Lithander, the university's Pro-Vice Chancellor (International and Student Recruitment).
Dr Lithander talked about Bristol's longstanding connection with the Chevening programme, and also mentioned how the city had recently been voted 'the UK's coolest'.
Inspiring change
The morning's keynote speech was given by the FCO's Colin Smith. He delivered a wide-ranging and thoughtful talk on looking forward to 2050, thinking about the 'big picture,' inspiring change, and our collective role in this.
Mr Smith said: 'If we are not to be defined by the future, then we must define it; not only as individuals, but collectively.'
Scholar presentations
Scholars then got their chance to present their own research on inspiring change in the first of two scholar sessions. The themes for the morning's panels included development and social change, technology, law and human rights, and economics and business.
24 scholars had been selected to present in these panels from more than 100 applications. Each scholar session featured three presentations, and was chaired by University of Bristol and FCO staff, with high quality debate taking place.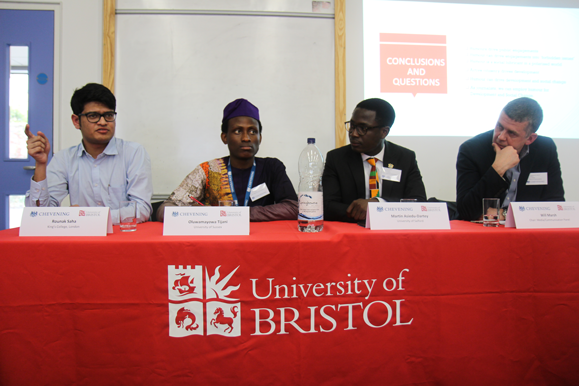 Topics were diverse, covering subjects including the gender pay gap, cashless economies and corruption, cybersecurity in developing countries, and combating human trafficking.
Some scholars chose to present their research in poster form, and the lunch break gave them a chance to exhibit their informative designs in the university's Priory Road Complex.
Scholars returned after lunch and networking to take part in the afternoon's interactive panel debate. Our panellists introduced themselves and took questions from scholars, who were keen to hear leadership insight from corporate, public health, academic, and non-profit perspectives.
Questions for the panel
The panel was chaired by Professor Becky Whay, Professor of Animal Welfare and Behaviour at the University of Bristol. The panellists were Dr Pall Jonsson, Chevening Alumnus and Associate Director of Research and Development at NICE; Giles Clarke CBE, Chevening Corporate Partner and Chairman of Amerisur Resources; and Ned Lewis, Programme Coordinator at the non-profit organisation Envision.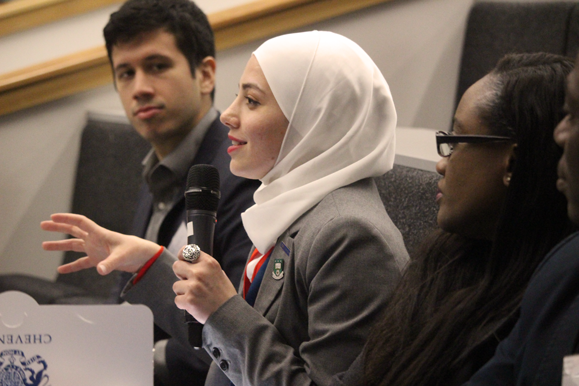 Scholar sessions resumed in the afternoon, with scholars exploring education, media, health, and the environment. Topics covered included music and development, climate change litigation, antibiotic resistance, and countering 'fake news'.
Matthew Lodge, Minister and Ambassador of Great Britain and Northern Ireland to UNESCO, brought formal conference proceedings to a close with an uplifting talk on inspiration, change, and hope in the face of global challenges.
Mr Lodge thanked scholars for their contributions on the day and encouraged them to stay in contact 'with your new Chevening friends, and with the United Kingdom.'
Networking
The day ended in Bristol University's beautiful Wills Memorial Building, where scholars got the chance to discuss what they had learnt at conference and network with one another at a drinks reception hosted by Dr Lithander.