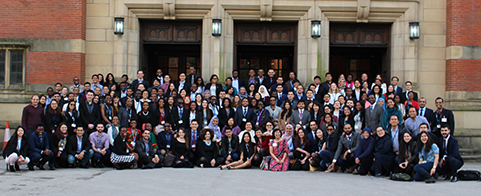 More than 160 scholars gathered at the University of Birmingham for the third annual Chevening Conference.
The conference gives scholars the chance to present their thoughts and ideas on the topic of the year, which this year was 'global ambitions.'
After more than 70 scholars applied to present, a panel of 24 were chosen, with their subjects ranging from Policy and good governance, Health, and Gender, to Media, Human Rights, and Development.
Once the scholars had presented, the floor was opened for questions, which sparked a number of interesting, and lively, debates.
Alongside the scholars, the University of Birmingham arranged for two guest speakers to open the day; Professor Adam Tickell, Provost and Vice Principal, and Professor Paul Jackson, Professor of African Politics. 
Professor Paul Jackson's opening speech was particularly captivating, as he reminisced on his time in Nepal working with Chevening Alumni to make a difference politically.
Later in the day, Chevening and Birmingham Alumna, Ebru Altinors, told scholars of her successes and gave tips for the future, while the day was closed by Matthew Lodge, HMA to Kuwait, and another Birmingham Alumnus.