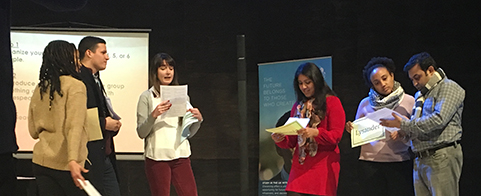 To mark 400 years since the death of William Shakespeare, a group of Chevening Scholars headed to his birthplace, Stratford-upon-Avon.
The group made their way to the Royal Shakespeare Theatre to see 'A Midsummer Night's Dream', as well as have a go at playing the some of his most famous characters.
Merybell Reynoso, a scholar and social media ambassador from Dominican Republic, tells the tale of a very Shakespearian day:
'Scholars headed to the Royal Shakespeare Theatre in Stratford-upon-Avon to see the greatest romantic comedy of all times: "A Midsummer Night's Dream". This play was envisioned by the great bard of Avon, playwright William Shakespeare, towards the end of the 16th century. Shakespeare, who also wrote the famous "Romeo and Juliet", is widely regarded as the most prominent writer in English language, and the world's famous 'modern' dramatist. 2016 is actually an important year, as it commemorates 400 years since the death of the great writer.
A Midsummer Night's Dream features young lovers who fall in and out of love in a very brief period: an enchanted Midsummer Night. Indeed, it seems 'the course of true love never did run smooth'.
We also had the opportunity to play Lysander, Hermia, Demetrius, Helena, and many more of Shakespeare's most famous characters ourselves during a lecture and group activities led by Professor David Schalkwyk, and Dr Katherine Hennessey, who are both from the Global Shakespeare programme at QMUL/University of Warwick.
'I have had a most rare vision. I have had a dream, past the wit of man to say what dream it was.'
'I love Stratford, it is just so romantic and magical,' remarks Kumar, a scholar from Kazakhstan, who also got to play Demetrius.
We also enjoyed a small tour to Shakespeare's birthplace, paid our respects to his grave at Holy Trinity Church, took a few selfies with a knight in shining armour, walked through Hall's Croft, Bancroft Gardens, Anne Hathaway's Cottage, and some of the most emblematic areas of the romantic and beautiful Stratford-upon-Avon.
This trip to Stratford-upon-Avon was a truly unique opportunity to deepen my knowledge, visit his home town in Warwickshire to celebrate the lasting legacy of the world's greatest playwright. After this adventure, I admit that as Shakespeare, I am a romantic now too!'
'Love looks not with the eyes, but with the mind, and therefore is winged Cupid painted blind.'