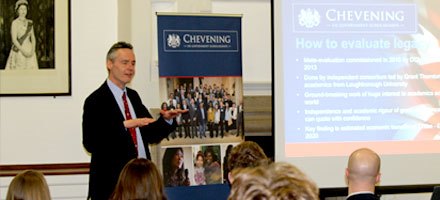 Scholars given insight into how the UK is keeping the London 2012 Olympics alive
30 scholars attended the first Chevening Topical Talk of 2015 in which Andrew Honeyman, Head of Olympic and Paralympic Legacy Unit at the Department of Culture, Media and Sport, demonstrated how the London 2012 Olympic Games were delivering on the legacy pledges that formed a crucial part of the winning bid.
Mr Honeyman announced an ambitious GBP 141 million regeneration project dubbed 'Olympicopolis', which will be located on the site of the 2012 Olympics and will feature two university campuses, a theatre, and a museum. He also cited that, in the UK, 1.6 million more people play sport at least once a week than did so in 2005, and stated that the Games have delivered GBP 11 billion in economic trade and investment to the UK so far, already eclipsing the GBP 9 billion that was spent on them.
Crucially, Mr Honeyman pointed to statistics that showed that prior to the Games volunteering was on the decline in the UK, but has increased by 7% and has remained at that level since.
Chevening Scholar Prakash Kumar from India, who volunteered at the XIX Commonwealth Games in Delhi in 2010, explained that helping out at major sporting events can normalise volunteering within a society. 'I believe volunteering has become more normal in India after the Commonwealth Games because people felt attached to the Games and the activities, and these sports activities help to make people feel attached to a cause,' he said, adding that he will carry the pride of having volunteered with him throughout his life. He is actively involved in volunteering at Imperial College London, where he now studies.
Sarah Alambeigi, an Iranian Chevening Scholar, experienced London 2012 as a sports journalist. 'I really liked British people and the culture – the atmosphere was fantastic,' she recalled. 'That is why I am here now! Although I knew that the UK has the best universities in the world, it never crossed my mind to eventually come here to study. However, the London Olympics and people's hospitality really encouraged me to come back here to study.'
David Crellin-Jones, Head of the Scholarships Unit at the FCO, reflected on his own personal memories of the London 2012 Olympic Games. 'The 2012 Olympic Games were the best event in the UK in my lifetime. Not only was everyone in the UK really proud of what we achieved, they were also a huge opportunity to do positive diplomacy and discuss really important issues,' he said.
He concluded by naming character traits like drive, focus, and determination to achieve goals as key qualities that both top athletes and Chevening Scholars share.
After a lively question and answer session, scholars were able to network with Mr Honeyman and each other at a drinks reception. 
Andrew Honeyman delivering his topical talk
Chevening Scholar Prakash Kumar experienced the Commonwealth Games in Delhi in 2010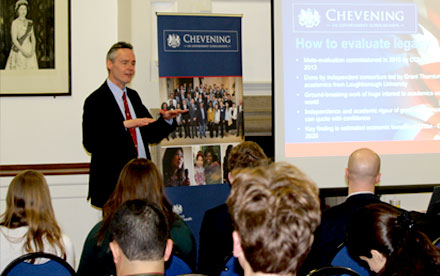 Andrew explains to scholars how his unit evaluates legacy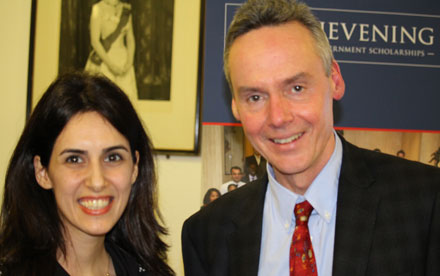 Sarah Alambeigi, now a Chevening Scholar, was in London during the 2012 Games working as a journalist