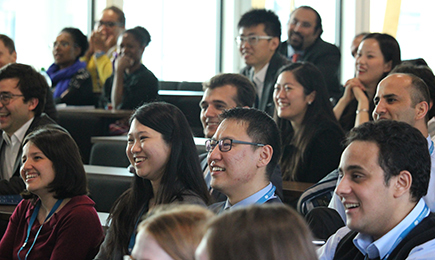 Chevening and the University of Durham came together for the second year in a row to host the annual Chevening Conference.
This year, set in the fantastic facilities at Durham University Business School, scholars set about debating diplomacy in the 21st century.
Nearly 100 scholars attended the one day conference, and 21 scholars were selected to present their opinions on topics ranging from soft power through to global health and governance. 
The conference also featured a number of special guests who both chaired and hosted sessions, including highly regarded academics from the University of Durham, and Foreign and Commonwealth Office staff.
After the event, Egyptian Scholar Ahmed Maher blogged his thoughts:
'The world is experiencing a new era of diplomacy. During my lifetime, I had the opportunity to attend many youth conferences around the world but what I witnessed during the Chevening Diplomacy Conference was a different experience for me. This one-day conference with six workshops about numerous topics such as media, health and environment was a great success in terms of allowing youth to lead and giving them the opportunity to be speakers and panelists.
I attended the event as a Chevening Scholar and Social Media Ambassador and I felt that for the first time, I understood what youth empowerment really meant. Giving 100 youth intellectuals from around the world an opportunity to lead a conference for the first time was fascinating to see.  I witnessed how young academics were able to utilize their leadership skills to organize and participate in a conference to explore the themes of diplomacy and diplomatic processes.
The participants including myself discussed our experiences living in the UK and shared our knowledge in the field of academic research.
All of the participants and panelists had a unique perspective about Diplomacy in the 21st century and all of the youth understood the significance of building and enhancing positive relations between countries in our interconnected world. Throughout the day, I was inspired to be amongst such intellectual and active youth in a scholarly environment. I felt that it was especially important for me as a Chevening Scholar to participate in this conference because as agents of potential change in our home countries, applying a theoretical and practical concept of diplomacy will be an important aspect of that change.
I was grateful for Chevening to give young scholars more opportunities to speak about their studies and experiences which ultimately gives them confidence as leaders on a global scale. I have again realized that Chevening is not just a scholarship to do a graduate degree, but it is also about allowing scholars to put their leadership skills to practice to optimize their communities in their home country as well as sharing their experiences and knowledge with others.
After the conference, I also realized how important we are as young and well-educated youth for future diplomacy making processes. When I go back to Egypt, I want to influence and work towards the enhancement of youth.
Thank you Chevening for the great continuous opportunities, thank you Durham University for hosting the conference and thank you my fellow scholars for sharing your knowledge with everyone at the conference.
Mauritian Scholar Bhavit Matabudul gives his presentation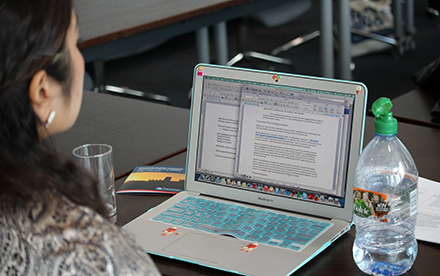 The scholars made plenty of notes throughout some engaging talks
FCO staff brought laughter in the afternoon session
Durham Cathedral was a beautiful setting for some afternoon photos