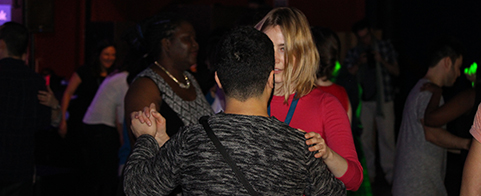 Chevening Scholars immersed themselves in Scottish culture, as they took part in a Burns Night Ceilidh in Glasgow.
Burns Night is celebrated every year in Scotland, and is a tribute to the great poet Robert Burns. 
Traditionally, Scots eat Haggis, Neeps (turnips), and Tatties (potatoes), because Robert loved Haggis so much. They then proceed to take part in a traditional Scottish dance, known as a Ceilidh.
So, that's exactly what the scholars did. Many tried Haggis for the first time, with some loving and it and others finding it a difficult taste. Following dinner, and despite knowing little, if anything, about Scottish dancing, the scholars embraced the night with the help of Glasgow based band, Kilter.
They learned a number of dances, including the Gay Gordons and Strip the Willow, and were accomplished dancers by the end of the night. 
The scholars were also treated to a surprise performance of Mark Ronson and Bruno Mars' Uptown Funk, from one of the International Officers at Glasgow University, Nick Bruce. 
My favourite experience
Merybell Reynoso, a Chevening Social Media Ambassador from the Dominican Republic, gives her take on the night of dancing and celebration:
'I am currently a scholar in University of Edinburgh, so by now I have conquered Ceilidh dancing. I have also eaten Haggis, Neeps and Tatties and endured the Scottish winter like a true 'Scot'. However, I have to confess that the Chevening Scholar Burns Night has been perhaps one of my favorite experiences so far.
The Burns Night, is held every year in honour of Scotland's national poet, 'Aye!', the great Robert Burns. This celebration takes place on his birthday at the end of January (25 of Jan to be exact), and is a way to commemorate the life, and legacy of the 18th century 'bard'. I also have to admit, that in 2015, as I dreamed of becoming a scholar myself, I 'stalked' last year's Social Media Ambassadors, and took several screenshots of all the photos, and videos of the first Chevening Burns Night. So the fact of the matter is that celebrating Rabbie Burns birthday, meant a lot for me.
Storm Gertrude was taking over Scotland the day that the Burns Night took place, but the intense 100MPH winds did not stop me or my friend, Brazilian scholar, Danielle Mizuta, from taking a train to the beautiful, and vibrant city of Glasgow.
Glasgow stands true to its slogan, "People Make Glasgow"; Glaswegian scholars and the people in general were as kind as ever. After some sightseeing, and walking, we were joined by Sahba, a scholar from Iran (yes, the Edinburgh scholars always stick together!) and took the tube from Buchannan Street to Hillside. We arrived to a small, and enchanting little street where we met other scholars before heading over to Queen Mary Union.
Twenty selfies (that included the cherished Chevening Relay), and fifty pictures later we had the typical Burns dinner. Oh, alas, some glorious Haggis, Neeps and Tatties! What is Haggis? Well, I am going to let you do your own research, I do not want to ruin the surprise for ya'! (I'm just going to say this: you either love it or hate it, no in between).
The scholars where soon satisfied (there was NO leftovers); we moved on to the traditional recitation of the "Address to A Haggis": "Fair fa' your honest, sonsie face, great chieftain o' the pudding-race!"
That was followed by the best part of the night: some Ceilidh dancing (traditional Scottish dancing). This was my favorite part, because although I have had several Ceilidh dancing experiences (that usually end up with very sore feet), this was some scholars' first time trying. This led to some vis-à-vis bonding, so I had the opportunity to dance with so many scholars, and made new friends from all over the world (especially Iraq and Cuba). Everyone really enjoyed it, I even saw Dan, and some other programme officers dancing as well!  Additionally, some scholars even came in a full Kilt (traditional Scottish costume)!!
The Burns Night was a success, and it confirmed why Scottish traditions make Britain so great!'
Highlights
Take a look at some of the highlights from the night.