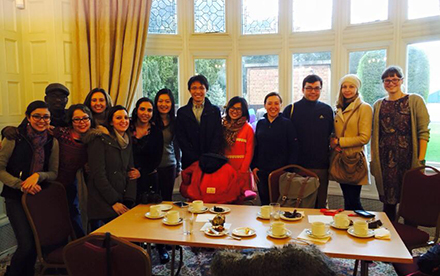 A group of Chevening Scholars stepped back in time as they visited Bletchley Park, home to the British codebreakers of World War Two. 
Bletchley was famously the location where Alan Turing cracked the Enigma code, helping to defeat Hitler's Germany as Britain and its allies won the war.
It is now a visitor centre, and most recently was used in the film depiction of Turing's story – The Imitation Game.
Chevening Social Media Ambassador Radhika Bhatnagar, tells the story of their visit:
'On a rather cold Sunday morning, a group of curious Chevening Scholars made their way to Bletchley Park, the site of United Kingdom's Government Code and Cypher School (GC&CS) in the Second World War.
Quite surprisingly, the site was packed with a lot of curious tourists, something that the officials admit is attributable to the success of the film 'The Imitation Game'.
Fittingly, the tour of the Bletchley Park began with a background into the history of the Second World War and introduced us to the basics of coding. Cheveners took turns trying to decode the various puzzles that were on display, and much to our disappointment, we failed miserably!
Feeling a lot more confident with our audio visual guides in place, we set off in groups to explore the various sites on the park. One of the most interesting attractions was The Alan Turing Bombe Project, which involved a demonstration of the rather complex mathematician's code intercepting machine (pretty sure none of us have still understood it completely). 
Another crowd-puller was the Imitation Game exhibition, which had on display costumes and items from the set. It was also extremely interesting to see the huts that the coders lived in, the preserved post-office as well as the offices from where they worked.
Giving us a closer insight into the life and times of Bletchley Park, was author Michael Smith, who spoke at the release of his book, The Debs of Bletchley Park. After his talk, the Chevening Scholars warmed up with some traditional British tea and cakes.
As the evening drew to a close and we returned to our homes, it dawned upon me that we had all taken a little bit of Bletchley Park back with us. The memories of the unsung heroes who in their way shaped history as we know it today, will undoubtedly stay with us for a long time to come.'
The scholars were treated to a British Afternoon Tea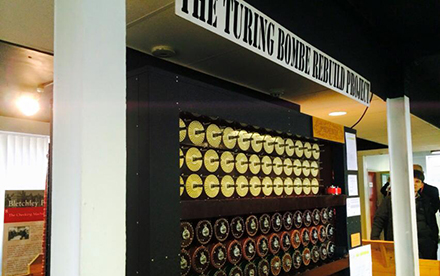 A replica of the machine Alan Turing designed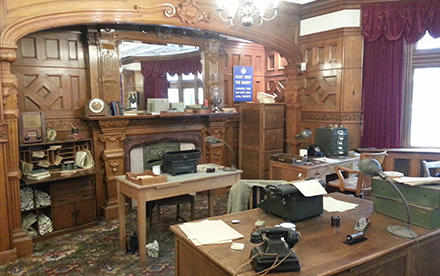 A set from the film 'The Imitation Game'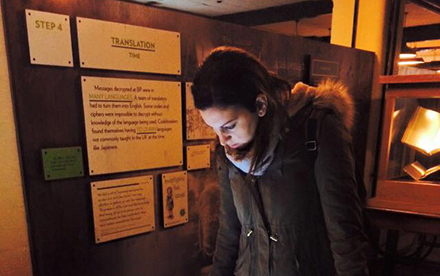 Chevening Scholar Nessma Nowar learns about Bletchley Park