Chevening Scholars contributed 5,000 hours of volunteering to communities and causes across the UK in 2017/2018, sailing past last year's total of 3,000 hours.
More than 200 scholars from 61 universities contributed to this total, giving their time to over 300 organisations around the country.
The total represents a 66% increase on the hours contributed in 2016/2017, and a 525% increase on the 800 hours recorded by scholars in 2015/2016.
Presentation of certificates
The contribution of 41 scholars, who were among those who gave the most time to volunteering this year, was recognised in the annual Chevening Volunteering Awards Ceremony, held at the Foreign and Commonwealth Office on Thursday, 7 June 2018.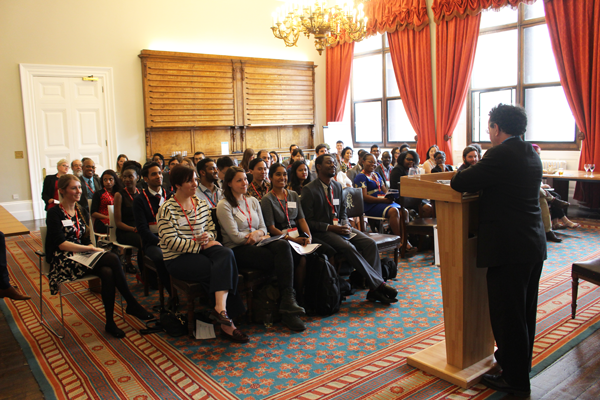 Scholars were presented with certificates to recognise the number of volunteering hours they had contributed in the UK. Overall (including those who couldn't attend the ceremony), 43 scholars received bronze certificates for more than 30 hours of volunteering, with nine scholars receiving silver certificates for more than 70 hours of volunteering. Gold certificates were given to seven scholars who contributed more than 100 hours of volunteering to UK organisations.
Scholars gave their time to a huge range of volunteering causes in 2017/2018, including gardening, befriending the elderly, charity fundraising, mentoring, supporting refugees, and much more.
The Chevening Community Volunteering and Outreach Programme aims to support, encourage, and document Chevening Scholars' engagement with their UK communities throughout their time in the UK.
The programme provides scholars with the opportunity to volunteer in both one-off projects, as well as long-term engagement with selected organisations. This allows scholars to increase their understanding of community outreach approaches in the UK, and see how they are applied and delivered by UK organisations. Scholars record details of their volunteering in our Chevening volunteering log.
Ben Coates, Head of the Scholarships Unit at the FCO, welcomed Cheveners to the volunteering ceremony and thanked scholars for contributing to their local communities in such a meaningful way alongside their busy academic schedules.
The value of volunteering
He was followed by Mathieu Pendergast, Senior Project Officer for the Conservation Volunteers; and Sally Haynes, National Corporate Volunteering Manager at the Prince's Trust. Both spoke about the value of dedicated volunteers to the work of their organisations.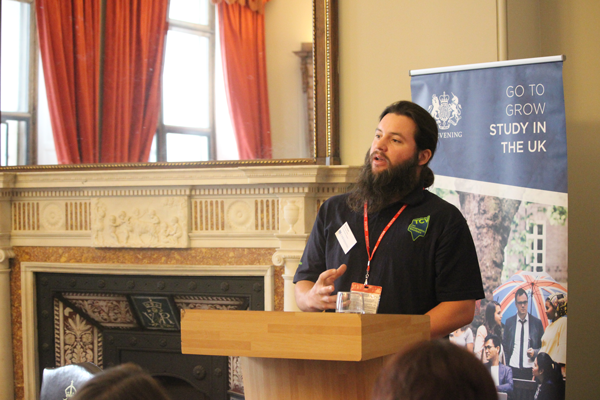 Panel discussions
Three scholars were selected to participate in a panel discussion at the ceremony chaired by Jon Benjamin, Director of the Diplomatic Academy at the FCO. They were Leah Schmidt, studying an MPhil in Multi-disciplinary Gender Studies at the University of Cambridge; Rayon Mclean, studying an MA in Applied Theatre (Drama in Educational, Community and Social Contexts) at Goldsmiths University; and Chellah Silavwe, studying an MSc in Information Technology with Business and Management at the University of Sussex.
These scholars had all made an outstanding contribution to volunteering in their UK communities and they shared their motivation for volunteering, as well as what their experiences had taught them about the UK.
Jon Benjamin said: 'Hopefully volunteering has enriched your experience of studying here. You have the chance through volunteering to meet a lot of different people in Britain: part of our very diverse population from all sorts of social, cultural, and geographical backgrounds. I hope that the experience has given something back to you too.'
'Volunteering helped improve my confidence'
Mexican scholar Alondra Maradiaga Aguilar volunteered at a school in Coventry alongside studying an MA in International Political Economy at the University of Warwick.
Alondra, who was presented with a gold certificate for doing more than 100 hours of volunteering, helped a secondary school Spanish teacher with her language classes. She said: 'I liked being with the kids because it took me back to their age. They didn't know what they would do with their lives in the future so I liked being with them and trying to help them.
'Volunteering also helped me with my confidence, and improved my public-speaking skills because that is what I had to do in the classes. Through volunteering you get more involved with your community, and I learned more about the UK when I was volunteering than in my normal days at university.'
 
Scholar volunteers
Gold
Alondra Carolina Maradiaga Aguilar, Mexico, University of Warwick
Claudia Castilla  Colombia, LSE
Gonzalo Baroni, Uruguay, University of Birmingham
Jinghong Wen, China, University of Sussex         
Leah Schmidt, Canada, University of Cambridge
Nabhojit Dey, India, University of Sussex
Warren Williams, Jamaica, University of Dundee              
Silver
Ahmed Medien, Tunisia, University of Strathclyde
Attique Ur Rahman, Pakistan, University of South Wales        
Chellah Silavwe, Zambia, University of Sussex    
Cynthia Lizbeth Matildes Mariscal, Mexico, University of Essex
Iman Rajeh Saad Al-Harithi, Yemen, Swansea University
Julius Cesar Alejandre, Philippines, Bangor University    
Nyabenda Ezechiel, Burundi, University of Bradford
Rayon Mclean, Jamaica, Goldsmiths, University of London          
Seona Yi, South Korea, University of Exeter
Bronze
Adelakun Anuoluwapo Adenike, Nigeria, University of Sussex   
Alemi Emmanuel Todoko Wani, South Sudan, University of Westminster             
Ana Maria Daou, Lebanon, King's College London            
Ananda Nidhi Lakshmikumari, India, Imperial College London     
Bolortsetseg Burneebaatar, Mongolia, Bangor University             
Chu Hao, China, LSE        
Dina Ahmed Reda Abdelaziz, Egypt, University College London 
Ericka Lalaina Ravoson, Madagascar, University of Birmingham  
Felix Chisoni, Malawi, University of Leeds            
Haleemah Alaydi, Jordan, University of Leeds    
Hoai Ngoc Dang , Vietnam, University of Birmingham      
Irene Wairimu Mwangi, Kenya, University of Reading    
Jasmine Parker, Turks and Caicos, Birkbeck, University of London            
Julio Eduardo Clavijo Acosta, Ecuador, University of Manchester              
Marilyn Chinwe Eze, Nigeria, University of Warwick
Matthew Amalitinga Abagna, Ghana, University of Bradford      
Mohamed Ali Azaiez, Tunisia, University of East Anglia  
Mohamed Moamen, Egypt, University of Birmingham   
Muh Achsani Takwim Mahendro, Indonesia, University of Southampton              
Muhammad Haniff Bin Abdullah, Malaysia, King's College London            
Mukta Balroop, Trinidad and Tobago, Queen Mary, University of London             
Ronaldine Taku Ankengfuet, Cameroon, University of Birmingham         
Ruminda Herat Gunaratne, Sri Lanka, University College London              
Saholy Nadia Raharinirina, Madagascar, Birkbeck, University of London 
Shamilah Perumal, Malaysia, University of Manchester 
Tarinee Boonyawan, Thailand, King's College London     
Tiffany Stewart, Jamaica, Brunel University London        
Unozha Tshegofatso Lejowa, Botswana, University of Sussex    
Vy Ton Nu Tuong, Vietnam, UCL Institute of Education  
Woroud Al Hasan, Syria, Durham University
Apoorva Iyengar, India, University of York
Ananda Nidhi Lakshmikumari, India, Imperial College London
Sindy Nur Fitri, Indonesia, University of Edinburgh
Oloruntoba Adefarati, Nigeria, University of Leeds
Johanna Absalom, Namibia, University of East Anglia
Hamid Khalafallah, Sudan, University of Bradford
Kellesia Ebanks, Jamaica, Brunel University London
Nurul Nadirah binti Mohd Sharif, Malaysia, UCL
Geni Maharani Widjaja, Indonesia, University of Bath
Ameera Maryam Azwer, Sri Lanka, University of St Andrews
Yasmine Fofana, Cote D'Ivoire, University of Surrey
Abdellah Iraamane, Morocco, University of Sussex
Chee Hong (Bryan) Choong, Singapore, University of Edinburgh
Akil Yunus, Malaysia, University of Birmingham