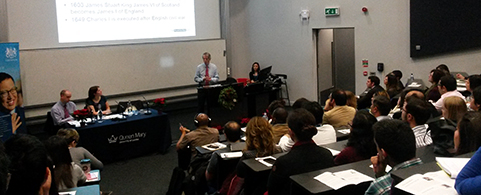 What is the role of the UK monarchy in the 21st century? This was the question asked at the inaugural lecture of the Chevening Lecture Series in London.
More than 200 scholars gathered at Queen Mary, University of London, to listen to, and debate with, two leading experts in this field.
Social Media Ambassador Chimwemwe Manyozo, has broken down the debate:
'What is the role of the monarch in the 21st century? What is the role of the UK monarch in the UK and globally? These were questions triggered by the September 2015 announcement that Queen Elizabeth II has become the longest serving monarch in British history.
The Chevening Christmas lecture provided an opportunity to address some of these questions at QMUL's Mile End campus, in east London.
Professor Robert Hazell CBE, Professor of Government and the Constitution at University College of London, opened the discussion, firstly informing the audience that there are a number of countries in Europe which still hold a monarchy. These include Denmark, Norway, Sweden, Belgium, Netherlands, Spain, and Luxembourg
The UK monarchy is unique because it has a local and global relevance; the Queen is the Head of State in the UK and Head of Commonwealth. As the UK Head of State, the Queen has the power to: summon and dissolve parliament; appoint and dismiss the prime minister; give assent to bills; and appoint judges and bishops.
The Queen also works to strengthen national identity and unity, to ensure stability and continuity in times of change, to recognise achievement, and encourage public and voluntary service.
Prof. Hazell concluded his presentation by highlighting what he called "threats of the future of the monarchy." He argued that heredity is a lottery. There is no guarantee that the next person who will take the throne will display values that we have seen in the current head of state. That in itself, he said, is a threat.
Celebrity culture, invasion of privacy, lack of freedom of speech, religion, career and travel, and gerontocracy as some of the other threats to the UK monarchy were also mentioned by Prof. Hazell.
Professor Murphy, the Director of the Institute of Commonwealth Studies and Professor of British and Commonwealth History at the University of London, then took to the floor and opened his presentation with the following statement:
'The Monarch acts on advice of ministers. No important decision is made without seeking advice from the ministers'
The advice comes from ministers and governor generals, so in his presentation, Prof. Murphy unpacked the following two questions: 'Whose responsibility is it to appoint the governor generals?', and 'Who provides advice to the Queen in her role as the Head of State of UK, and Head of Commonwealth?' Prof. Murphy used a number of examples from commonwealth countries around the world to illustrate his points.
The scholars were clearly engaged by the debate, and the presentations were followed by a lively discussion. Questions asked included: 
Will England become a republic in the future?
To what extent is the consultation process with governors and prime ministers consultative?
What is the relevance of the monarchy in the 21st century?
Are there plans in the future to consider establishing a set age where the King/Queen should abdicate the throne?'