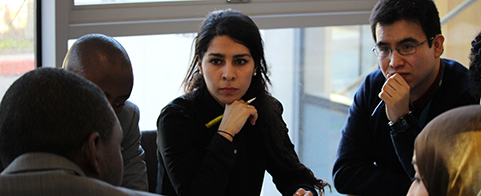 A group of budding entrepreneurs were treated to a full day workshop, hosted by the University of Liverpool.
Around 60 scholars came together to learn from entrepreneurial experts from universities and businesses across the UK.
Chaired by Professor Oswald Jones from the University of Liverpool, the other speakers included Dr Martha Mador from Kingston University,the Campaign Manager of 'StartUp Britain' – Kosta Mavroulakis, Dr Dale Heywood from the University of Liverpool and Juan Guerra, a Chevening Alumnus and CEO of StudentFunder.
After the expert sessions in the morning, scholars were split into six teams, and each was set the task of producing their own start-up. 
With only two hours to come up with an idea, plan and practice their presentations, the scholars had their work cut out. However, like the leaders they are, each team produced a unique start-up and pitched superbly to the expert panel.
Amazing opportunity
Social Media Ambassador, Adaiana Lima, added her thoughts on the day:
'This month, I got the amazing opportunity to cover the Chevening Entrepreneurial Workshop as a Chevening Social Media Ambassador. Although I am a lawyer in my country, Brazil, I have always been interested in entrepreneurship and I think it's fascinating to see how entrepreneurs turn ideas into business. Last week I was able to see first-hand the great entrepreneurs that Chevening has formed and continues to create.
During the first session, we had great speakers from different companies and universities, talking about what makes an entrepreneur. We learned from Dr Dale Heywood, from the University of Liverpool, that failure is simply part of life and that when we become acclimatised to forgiving ourselves when things do not go to plan, we build up resilience. Also, the Campaign Manager of 'StartUp Britain', advised us that transparency and integrity are essential for an entrepreneur. 
It was inspiring for all of us to see a Chevening Alumnus between the successful speakers. Juan Guerra, from Mexico, was awarded a Chevening Scholarship to study Business Administration at Cranfield University. After finishing his Masters degree, he founded and became the CEO of the StudentFunder, a peer to peer platform for student loans. His overall message was "make money improving the world".
After being inspired by these lectures, we were divided into groups with a mission to create a proposal for a start-up.  Since the groups were formed by area of interest, it was fascinating to meet and share ideas with people connected to our dreams. For instance, my group focused on social entrepreneurship and our proposal was to create a start-up that would work as a platform between NGOs and newly graduated students who wanted volunteering work experience. Our differential was to act in countries that were hosting mega sport events. Thus, the host country would benefit from volunteers of different backgrounds and countries. In turn, the young professionals would also benefit from having the opportunity to gain work experience and enjoy the environment and excitement of a big competition.
The result of the competition was incredible, as each group presented their creative idea for a new start-up. It is worth mentioning that there were no losers, because each group received an award that highlighted the strengths of their team, such as teamwork and professionalism.
The event was a great success and it left everyone feeling motived and inspired to make our success happen.'