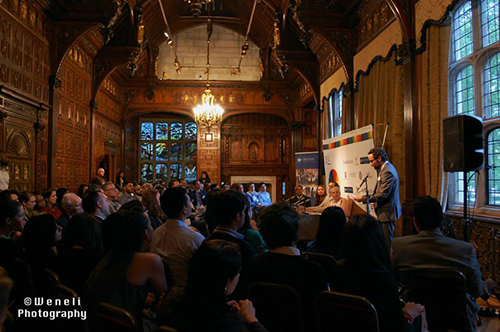 Combine a series of inspiring and engaging talks with the opportunity to taste an array of Mexican drinks and what you end up with is the recipe for a truly special event, which is what the second edition of BritMex turned out to be again.
Hosted by The Bulldog Trust at Two Temple Placeon 15 May, the event brought together a huge variety of organisations like The Mexican Talent Network UK, Chevening, and other partners for an evening of inspiring and engaging talks as well as great networking opportunities with a Mexican twist. The event showcased VIP guests such as Diego Gomez Pickering, the Mexican Ambassador to the United Kingdom.
After a welcome from the CEO and Co-founder of BritMex and Chevening Alumna, Cynthia Vega and Mary Rose Gunn, Chief Executive, The Bulldog Trust, the first speaker, the CEO of Forensic Pathways LTD and Britain's Top 100 women entrepreneur, Deb Leary, discussed what she perceived to be 'the power of many in her way to success'. The guests then heard from Sarah Safa Kasim, CEO & Vice Chairman at Al Maseer Insurance, Iraq, who delivered an exceptional and moving talk about being an entrepreneur during conflict and spotting opportunities in one's country of origin.
Sarah talked from a very personal perspective, sharing her own story of migration and struggle during conflict and how she managed to connect what she learnt in the UK with Iraq leading her to success, whilst Deb spoke more from a business perspective, discussing how she developed her innovative idea, ensured market buy in and then pursued investment to accomplish her goal. Carlos Serra, Director of Operations at SocialBro, then joined the speakers along with Andres Roemer, academic, journalist, founder of "Ciudad de las Ideas" and Consul of Mexico in San Francisco, to answer any questions that the audience had.
The speakers emphasized the importance of finding the right people to join forces in order to grow their businesses and they said that luck has very little to do with success; timing, experience, confidence and hard work are essential to achieve entrepreneurs' goals. There was also an invitation from their side to leave one's comfort zone to actively search for partnership opportunities and to take the chance and be responsible of your ideas.
The event was then closed with a few words from both Diego Gómez Pickering, the Mexican Ambassador to the UK and COO and Co-founder of BritMex and Chevening Alumna, Laura Vanessa Munoz, who announced that BritMex will host its Global Lab competition in October 2015, where they will invite both British and Mexican entrepreneurs, developers and students to create an app to solve a specific social issue.
After the inspiring debate, all the guests enjoyed some Mescal tasting and Mariachi music. Britmex CEO Cynthia Vega said:
'For me personally, BritMex is about leadership. We combined a series of inspiring talks with the opportunity to taste an array of Mexican drinks and what we ended up with is an increased chance for great ideas to collide and great people to meet. Different cultures sharing, learning and jumping into new opportunities through contacts made. Days after the event, I received an e-mail from an attendee saying 'you have inspired me to walk into the unknown', it was then when I knew that all the effort to make BritMex happen was worth it.'
'Even though you might not have attended the event, if you are reading this what I would say to you is don't be afraid to be a leader, step out of your comfort zone, learn, teach and share. The Chevening Scholarship has given us the necessary tools to get started so find what drives you and jump into the opportunity. 'Take ONE small action and act upon it', you will be surprised on how much of a difference you can make to your organisation and community.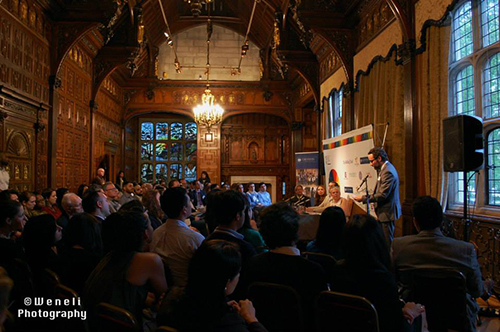 HE Ambassador Diego Gomez Pickering delivers a welcoming speech
Sarah Safa Kasim answers questions about setting up her business in Iraq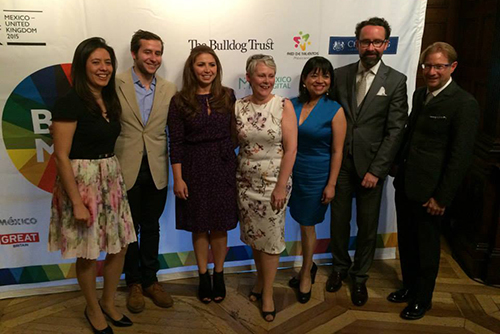 From left to right: Cynthia Vega, Carlos Serra, Sarah Safa Kasim, Deborah Leary OBE, Laura Vanessa Munoz, HE Ambassador Diego Gomez Pickering, and Dr. Andres Roemer
Guests networking over Mexican food and music