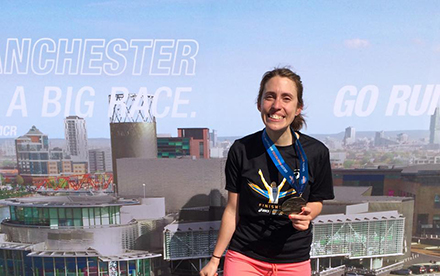 Mariela Sanchez-Belmont Montiel, a Chevening Scholar from Mexico, has completed this year's Greater Manchester Marathon.
In a more than respectable time of 5hrs 27mins, Mariela, who studies at the University of Manchester, completed her first ever marathon.
After recovering from the aches and pains of running for that long, Mariela took the time to tell us her story:
'The idea of running a marathon came to be a couple of years ago, but after starting running, I realized only a few kilometers were exhausting, so I discarded the idea but kept running, not as a challenge but for fun. I then entered a 10km run and really enjoyed the experience. Running alongside other runners and having strangers cheering for you was really fun. So I kept running occasional 10k until last year I took what I though would be my ultimate running challenge: a half marathon. I thought if I could find in me the strength and discipline needed, I could do anything in life.
That run happened just a few days before I got the Chevening final award letter, coincidentally. So after that race I already knew I was coming to Manchester and, exited as I was both for the completion of the half-marathon and the news about the scholarship, I signed up for the Greater Manchester Marathon. It was an impulse, I guess. And then it became a new challenge, finishing in 2015 what I had started in 2014: the master's and the marathon, both in Manchester. It was about proving to myself that I can do something if I set my mind to it, to be honest, and to have new goals to accomplish.
The race was a lot of fun. Exhausted as I was when I finished (and honestly, even a couple of hours before finishing), it wasn't as bad as I had thought. After some time, finishing it becomes more of a mental than a physical effort. But the people in Manchester really made it easier: they were everywhere along the route. Families were in their yards and on the streets singing, cheering, giving cookies and sweets to the runners, kids high-fiving us and churches' choruses had full shows on. It was also a discovery of the city: I live near university and the city centre, so I have little reason to explore the rest of Manchester, and I am now inspired to go to new places, because I ran through really beautiful neighborhoods. It gave a new and amazing perspective of what 'Greater Manchester' and its people really are, and they are amazing!
Training for a marathon is, honestly, something that might not be that enjoyable. Many times I wanted to quit. Also during the race, many times I questioned myself why I was putting myself through that, and even thought about leaving the race at some point. But finishing the marathon was an amazing reward. Now I see it is the perfect complement to this amazing journey in Manchester and all the training suddenly made sense and felt worthy. At least that is what I say now that I can walk normally again!'
Congratulations to Mariela from everyone at Chevening – it's an amazing achievement.
Mariela running through Manchester
After the race with her medal