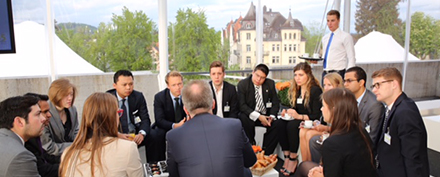 Malaysian Alumnus joins the St Gallen Symposium as a Young Leader of Tomorrow
Woon King Chai, a Chevening Alumnus from 2012/2013, was invited as one of 200 young Leaders of Tomorrow to join over 600 senior business and country leaders from around the world at the 45th St Gallen Symposium in Switzerland.
The global symposium aims to provide a setting for relevant debates between young leaders and today's business and country leaders on topics like management, economics, politics, and sustainability. Among the plenary speakers and topic leaders invited were Sigmundur Gunnlaugsson (Prime Minister of Iceland), Tharman Shanmugaratnam (Deputy Prime Minister of Singapore), Paul Polman (CEO of Unilever), Stephen Lee (Chairman of Singapore Airlines), Anders Fogh Rasmussen (Former NATO Secretary-General), Nick Hayek, Jr. (CEO of Swatch Group), and many others. 
This year's topic was 'Proudly small' and through the plenary and work sessions, the symposium attempted to answer the question of what it means to be 'small' in an increasingly globalised world and how being 'small' can also be advantageous, such as in the case of Switzerland, Iceland, and Singapore.
Some of the key insights were: 
Many large companies are looking towards updating their group and business strategy to allow them to harness the benefits of being small (such as agility and innovation) by leveraging on being big (such as access to greater pool of resources) 
These large companies also want to move away from merely streamlining their operations through cost reductions, to think about how their businesses can continue to grow in today's competitive market and innovate quickly to respond to future trends in light of the current 'third wave of an IT-driven revolution' 
This year's symposium also published a Global Perspectives Barometer report that attempts to debunk 10 myths surrounding Gen-Ys and young leaders with regards to issues like career aspirations, work-life balance, leadership-style, and many others. Some of the conclusions include: 
Young leaders are motivated by challenging tasks that impact society, and won't work for companies whose values they don't share.
Young leaders are thoroughly split on the topic of work-life balance between those who value traditional concept of work-life balance and those who don't see work and life as separate concepts 
Young leaders don't reject the traditional concept of hierarchy and are not blind to the advantages of hierarchy in the context of leading a project to success and taking necessary decisions.