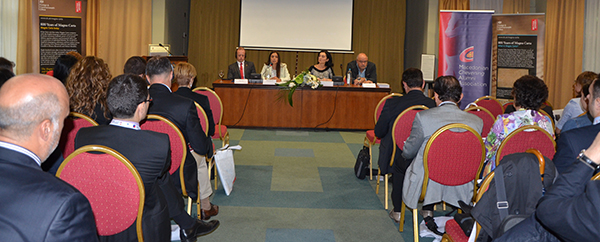 Macedonian Chevening Alumni Association marks 800 years of Magna Carta
The Macedonian Chevening Alumni Association (MCAA) in cooperation with the British Embassy in Skopje organised the panel discussion Conquering civil liberties: From Magna Carta to Carta Macedonia to mark the 800th anniversary of Magna Carta in Macedonia. The event took place in Skopje on 22 September 2015.
The panel aimed to bring closer the relevance of Magna Carta to the state of human rights and civil liberties in the modern age, particularly in the context of Macedonia. The 800th anniversary served as an inspiration for opening up a debate relevant to young democracies as Macedonia. Charles Garrett, the British Ambassador to Macedonia, and Adnan Jashari, the Minister of Justice of Macedonia, greeted the panel, before a keynote speech was delivered by Mark Gill, Executive Director of the Magna Carta 800th Committee. Mr Gill, who spoke of the value of Magna Carta, provided a historical insight of how Magna Carta was adjusted through the centuries and paid special attention to its enduring legacy, as well as how it has impacted the shaping of democracy and democratic practices around the world.
The panel was moderated by Ilina Mangova, Chevening Alumna and expert in public opinion and democratic governance. Professor Gordan Kalajdziev from the Faculty of Law at "Ss. Cyril and Methodius" also spoke of  "The Macedonian Magna Carta of Civil Liberties", while another Chevening Alumna and Judge in the Constitutional Court of Macedonia, Natasha Gaber-Damjanovska, PhD,  gave her overview on "Are the Civil Liberties Protected?".
Over 50 guests attended the event, including prominent judges, representatives from political parties, universities, embassies, and the civil society. The questions and debate during the panel tackled some very challenging issues regarding the current state of civil liberties in Macedonia and Europe.
This was the third conference organised by the Macedonian Chevening Alumni Association in the last several years. It's through these avenues that the Macedonian Chevening community tries to contribute to the public debate in Macedonia and to raise awareness about funding possibilities through Chevening.