A group of scholars had exclusive access to the English Cricket Board (ECB) National Performance Centre as they were treated to a cricketing masterclass.
Set on the University of Loughborough campus, the ECB centre is regularly used by both the men's and women's England sides as they prepare to play international cricket. The centre also features climate control, allowing players to adjust to extreme temperatures they may face when on tour in countries such as Dubai.
For one day only, Cheveners were able to experience the first class facilities as well as some expert coaching from Loughborough academy players.
Scholars were taught the basics, from how to bat, bowl and catch, to more advanced techniques including diving catches and batting to the offside.
They had a chance to put all of their skills into practice in the afternoon session, when they were split into three teams to play each other. 
Programme officer James Farren, who organised the event, felt it was a great success:
'Many of the scholars have never heard of cricket, let alone played it, so this was a great opportunity to show off one of the UK's great sports.
The event was immensely popular last year, and I was delighted when Loughborough University and the ECB agreed to host us again this year. They were so happy with that they agreed for more places to be available this year, meaning more of our scholars had the chance to take part in this fantastic event.'
Loughborough Vice-Chancellor Robert Allison entertains the scholars as they pose for a photo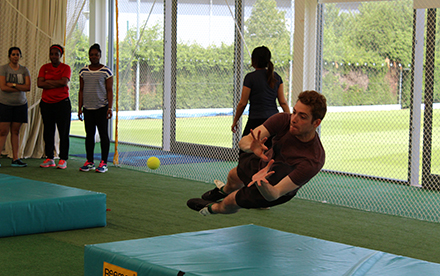 Programme Officer James Farren attempts a diving catch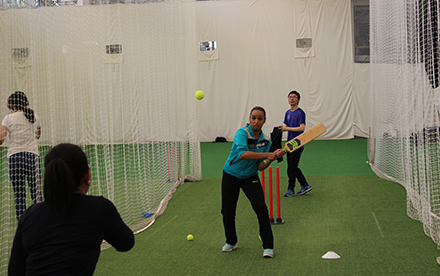 Batting was one of the first skills taught by the coaches
All of the skills were put into practice at the end of the day in a match