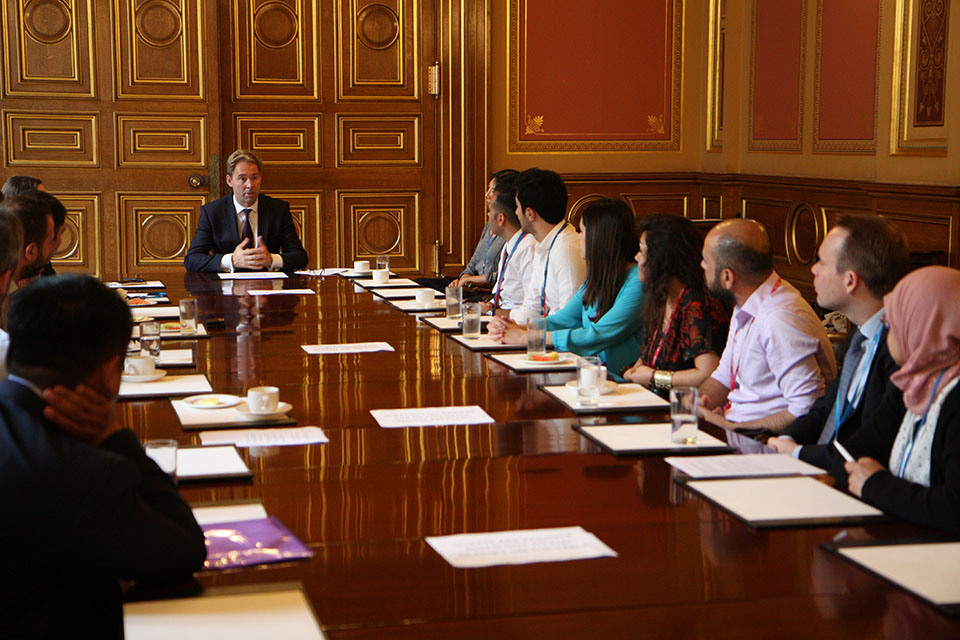 In an effort to strengthen mutual understanding of the UK's engagement with the Near East, ten Chevening Scholars participated in a roundtable discussion with staff at the Foreign and Commonwealth Office (FCO).
As future leaders, Chevening Scholars are well placed to understand the particular challenges and opportunities in their particular countries and regions and were happy to share their insights with staff focusing on Jordan, Lebanon, The Occupied Palestinian Territories, and Syria at the FCO. The event was a clear demonstration of the bilateral value Chevening can bring to scholars, their home countries, and the FCO by ensuring that the UK's foreign policy in the Near East, especially related to policy on extremism and security also aligns with the needs and desires of citizens from its various countries.
Mr Tobias Ellwood, Parliamentary under Secretary of State with responsibility for the MENA region, attended the discussion and laid out both the priorities of the UK in the region, as well as allowing the scholars to comment on some UK policy decisions. The Minister said he was 'pleased to meet outstanding Chevening scholars from across the Levant as they finish their studies and get ready for greater things.' Bassem Abu Nimeh, a scholar from Jordan, said: 'the event focused on some major issues and we were interested in discussing them with FCO representatives, as well as knowing the FCO is interested in solving those issues, and willing to ask for our suggestions.'
This engagement with scholars from the Levant region follows on from a series of recent events where Chevening Scholars from sub-Saharan Africa, Pakistan, Afghanistan, Peru, Chile, Colombia, and Mexico have all been able to engage with FCO staff relevant to their region.