Jordanian Scholar advises at the Remote Healthcare in the Middle East summit
16 and 17 February saw the unfolding of the Remote Healthcare Middle East conference in Abu Dhabi where Jordanian Chevening Scholar Dr. Mohammad Al Safadi was part of the advisory panel.
Mohammad is the former Chief Medical Officer of Qatar Red Crescent Turkey mission and the consultant at QRC Relief and International Development Department and was one of the six speakers at the event. Below he details his impressions of the summit.
'In 2016, this conference is the region's only event dedicated to improving healthcare access, response, effectiveness and technologies for remote, austere, and extreme environments. Topics covered the breadth of remote healthcare and provided a 360-degree perspective of the most pressing industry challenges from resuscitation and medevac to disaster crisis and security management. The platform provided an unmissable forum for experts to discuss the future of remote healthcare in the MENA region. 
As a board advisor for this event, I identified the challenges in delivering healthcare, and remotely managing the health services, and talked about opportunities to increase the quality, access and reliability of the health service in the crisis areas. I presented the Syrian case study at the event and examined the assessments, response plans, and lessons learnt from the global strategy.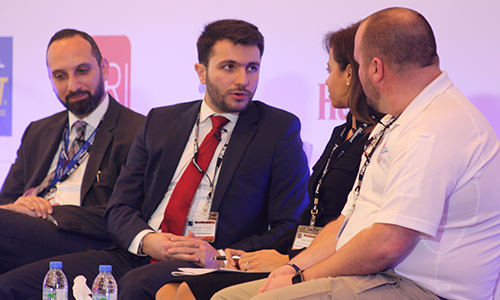 During the panel discussion, I made it a point that in areas of crisis or extreme environments, there is always a big emphasis on delivering services. However, there is little consideration for data collection and analysis. We are not getting evidence based data in these areas as we should, and a poor linkage between feedback from the ground and the learning process is a challenge to be explored. There should be collaborative attention to study existing methods of remote risk assessments, and find out better approaches to this issue by exploring innovation models and tools to overcome accessibility issues without affecting the quality of key information or services delivered.
While I was heading the health department of Qatar Red Crescent in Turkey and directing the monitoring activities in North Syria, I felt the urge of improving accessibility to vaccine in the MENA region. Undeveloped procurement and supply chain management systems in developing countries is obviously one of the main reasons for low vaccine demand in these countries, and efforts should focus on developing strategies to increase demand supported by public-private initiatives.
The NGO panel discussed working with key organisations including the Red Crescent and Cross, Doctors Without Borders, and the United Nations to maximise efficiency of health operations in crisis areas. It was fruitful to discuss the role of humanitarian groups, relief workers and NGO's in delivering and supporting remote site healthcare. Health is everyone's business and only with honest and open sharing of ideas will we be able to advance the provision of remote healthcare in the Middle East.'