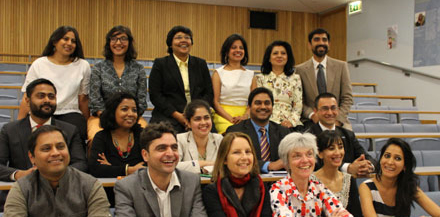 The 2015 Chevening India Journalism Programme came to a conclusion with a captivating symposium organised by the fellows themselves themed Elephants in the newsroom: Challenges facing the Indian media today. 
The keynote speech was given by Lord Bhikhu Parekh, Emeritus Professor at the University of Westminster, and panellists during the day-long event included Dr Shakuntala Banaji (LSE), Manoj Ladwa (communications director for Narendra Modi's prime ministerial campaign), Leslee Udwin (producer/director 'India's Daughter'), Peter Oborne (The Spectator), and David Loyn (BBC).
The 14 fellows, themselves each with over a decade of experience working in Indian newsrooms, spent two months in London participating in the Chevening India Journalism Programme, an intensive short course aimed at high-flying, mid-career journalists from India. Undertaking a specifically designed programme at the University of Westminster, the fellows sharpened their leadership and practical skills through a rigorous academic experience and broadened their networks through interactions with leading academics and journalists based in a variety of UK-based media organisations.
Speaking at the farewell ceremony which followed the symposium, Professor Jean Seaton, who co-leads the India Journalism Programme at the University of Westminster, delivered an emotional speech praising the commitment and energy they brought to the programme. These views were echoed by Professor Rosie Thomas, Co-Director of the India Media Centre at Westminster, who commended the cohort's sensitivity towards and support of one another, and their work ethic in collaborating to put on a symposium of outstanding quality.
The Deputy Vice Chancellor of the University of Westminster, Professor Graham Megson, presented the fellows with their completion certificates, and spoke about how this programme aligned with the university's 2020 vision of being a world-leading academic hub for the media and creative industries.
Nyssa Lee-Woolf, Programme Manager at the Chevening Secretariat, also addressed the fellows. 'Your passion for your profession, combined with the depth of knowledge you display around these issues clearly demonstrates the great potential you all have to make a lasting impact on your sector'.
The presentation ceremony was followed by a general election event – one of four such events held simultaneously across the UK attended by Chevening Scholars and Fellows. With a week to go before the UK General Election, this was an opportunity to experience how democracy works in the UK, and invited guest speakers from media organisations, think tanks, political analysts, polling agencies, and academia to discuss the political process in the UK.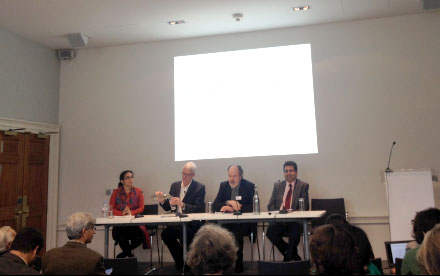 A panel at the Elephants in the newsroom symposium, organised by the IJP Fellows.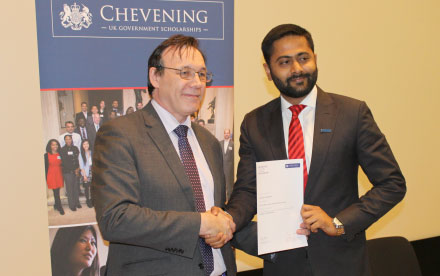 Deputy Vice Chancellor, Professor Graham Megson, presents IJP Fellow Arunoday Mukharji with his completion certificate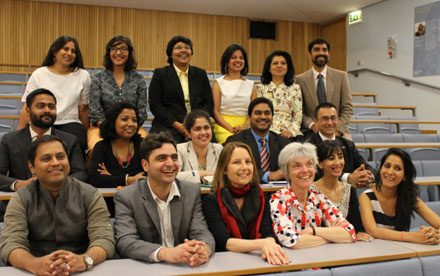 2015 Chevening IJP Fellows with Professors Rosie Thomas and Jean Seaton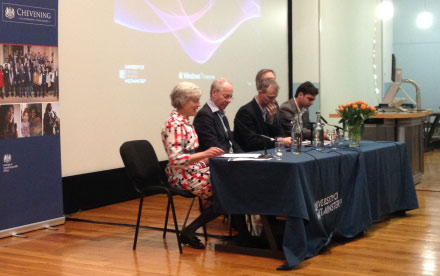 Professor Jean Seaton chairs the general election event at the University of Westminster.