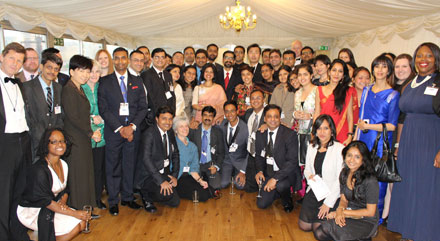 Inaugural Chevening Fellows Dinner brings fellows to the House of Commons
45 Chevening Fellows from six different fellowship programmes were invited to the House of Commons for a networking reception and dinner, bringing together fellows from India, Sri Lanka, and China for an historic evening at a fittingly historic venue.
The inaugural Chevening Fellowships Dinner took place on 16 April 2015 in the House of Commons' Churchill Room. It was hosted by the FCO with a welcome address from the ACU's Director of External Engagement, Joyce Achampong. In her speech, she spoke of the importance of bringing fellows with renowned expertise and influence to the UK. 
'Academic fellowships help foster positive relations between our distinguished fellows, their home countries, and the UK,' she said. 'As such, it is our privilege to host you here in the UK'.
The fellowships programmes represented on the night included the Chevening TCS Cyber Security programme, the Chevening Rolls-Royce Science and Innovation programme, and the Thought Leader programme, and included fellows based at five different universities across the UK, including the University of Oxford, the University of Edinburgh, and the University of Westminster.
The Chevening Fellowships programme brings international leaders and those with strong expertise in their fields to the UK to acquire new skills, build their networks, and collaborate on research. The dinner was planned to coincide with approximately 45 fellows across six different programmes being in the UK at the same time during a short window in April. It succeeded in providing a unique opportunity for fellows to interact with their peers, colleagues from the host universities, and Chevening, FCO, and ACU staff.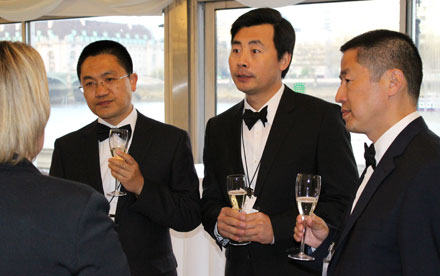 Fellows from China engage in conversation with staff from the Chevening Secretariat
Fellows gathered on the banks of the Thames for an historic evening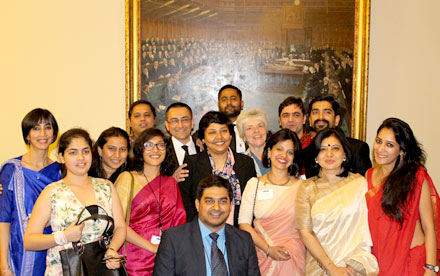 Fellows from the Indian Journalism programme stood shoulder-to-shoulder with colleagues from the University of Westminster in front of a painting of the Commons Chamber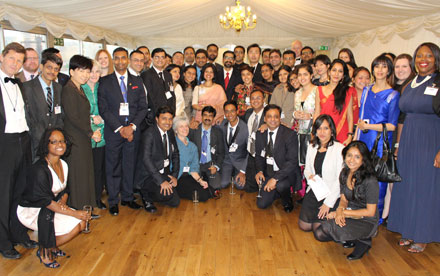 Chevening Fellows, host university colleagues, and staff from the FCO, ACU, and Chevening Secretariat gather to capture the night.