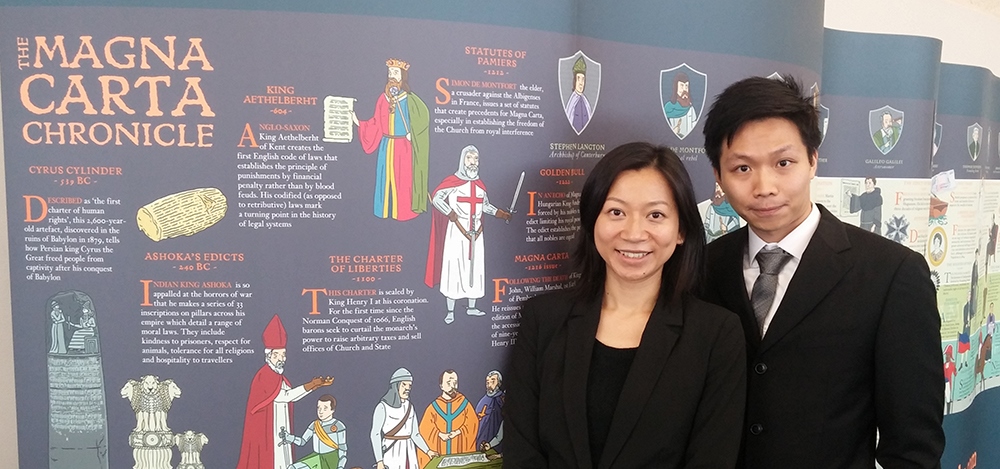 14 Chevening Scholars from across the UK were recently treated to full attendance at the Global Law Summit in London. The summit started early for three of them as they had the honour of meeting Her Majesty Queen Elizabeth II at Buckingham Palace, and continued with three days of talks, exhibitions, and panels.
Chevening Scholar Sandra Tsui shares her experience of the event:
'I was very lucky and honoured to be invited to attend the Global Law Summit held in London in the last week of February. As the country celebrates the 800th anniversary of the Magna Carta which Lord Denning described as "the greatest constitutional document of all times – the foundation of the freedom of the individual against the arbitrary authority of the despot", prominent lawyers from all over the world gathered in the capital to share their views and exchange ideas.
At the opening reception held at the Royal Courts of Justice, four other Chevening scholars and I, all reading law in London, were introduced to Lord Thomas, the Lord Chief Justice of England and Wales. Austin Chiu and I, both from Hong Kong, also had a chance to chat with the Chief Justice of the Hong Kong Court of Appeal the Hon Chief Justice Geoffrey Ma.
The most exciting part of the summit were definitely the keynote speeches given on the first and the last days by Lord Thomas, US Attorney General Eric Holder, Secretary General of OECD Angel Gurria, Karim Massimov, Prime Minister of Republic of Kazakhstan, and Boris Johnson, Mayor of London, about the history, latest development and impact of the rule of law in different parts of the globe.
One of my favourite panel sessions was on shareholder activism. Panelists included regulator, fund manager, communication specialist for listed companies and banker from both sides of the Atlantic each having their unique perspective on the very impactful trend in the corporate world. The session is also helpful to my study as the issues discussed, such as why shareholder activism is yet to take off in Europe, how publicly-listed companies are coping with it and the motivation and strategies of activists etc, are closely related to the regulation of financial markets which is a subject I am focusing on this year.
Needless to say, there were plenty of networking opportunities in the very high level event. I found myself sitting next to the Hon Samuel W Bulgin, Attorney General of Cayman Islands, while listening to one of the keynote speeches and have been invited to visit the office of a boutique law firm in central London by a partner whom I met at one of the evening receptions.'