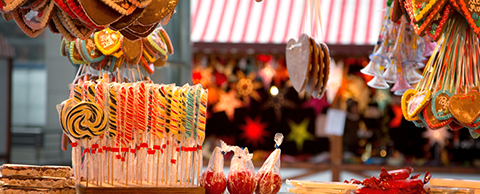 One of the best things about Christmas in Britain is our bustling Christmas markets, where wooden chalets adorn the streets and hot chocolates are the order of the day. Here we've rounded up five of Britain's best Christmas markets, perfect for getting in the festive spirit this winter.
Edinburgh (20 November – 4 January)
If anyone knows how to throw a celebration it's the Scottish, so take a trip to Scotland's capital and join in with their Christmas festivities. On St Andrews square you'll find the Speigeltent where Christmas shows take place, as well as the Scottish Market, a stunning circular ice rink, and of course the bars where you can get your evening tipple. Make sure to visit east Princes Street gardens where you can ride on the big wheel and the star flyer, or take a trip to santa land; meanwhile avid shoppers can browse the traditional European market.
Getting there: Edinburgh is located in the east of Scotland, and is a 75-minute flight from London.
Winchester (18 November – 20 December)
Formerly known as England's capital city, the ancient city of Winchester plays host to the annual Christmas market which has been deemed one of the best in Europe. Its success lies in its unique location, wooden chalets that line the Cathedral's historic Close, and a real open-air ice rink. The exhibitors are hand-chosen, and the market itself is inspired by the traditional German Christmas market.
Getting there: Winchester is in the south of England, and is an hour by train from London.
Manchester (10 November – 20 December)
Found in the north of England, Manchester is an eclectic city bursting with shops, quirky cafes, luxurious restaurants, and ever-growing sources of entertainment. One thing the city has perfected is the art of a Christmas market. With nearly 350 stalls spanning across ten distinctive market sites there is an abundance of variety and festive cheer to get your hands on. Each stall is housed in a handcrafted wooden chalet selling gifts, trinkets, Christmas wares, and festive food by traders from the local north-west to the corners of Europe.
Getting there: Manchester is in the north-west of England, and is one hour by train from Leeds, and a two-hour train journey from London.
Lincoln (1 December – 4 December)
Lincoln Christmas Market grows in size year-on-year, and is nestled around the city's medieval Cathedral Quarter and within the atmospheric castle grounds. Climb Steep Hill, where boutique shops and cute cafes perch on the cobbled streets, and make your way to the market. Browse more than 250 stalls as your make your way through the historic streets bustling with live entertainment, before trying your skills on the real open-air ice-rink. Don't forget to visit the fayre to win yourself a giant teddy-shaped souvenir.
Getting there: Lincoln is in the heart of England, and is a two-hour journey by train by London, and just over an hour's journey by car from Sheffield.
Cardiff (10 November – 23 December)
Set in the heart of Cardiff city centre, Cardiff's annual Christmas market showcases more than 190 predominantly Welsh exhibitors. Expect to see arts and products with the highest standard of craftsmanship, as well as the ever-popular seasonal food and festive drinks. Make sure to explore the Victorian arcades while there, and take a look round Troutmark Books, Coffee Barker at the Castle Arcade and Hobo's at the High Street Arcade.
Getting there: Cardiff is in the south of Wales, and is a two-hour train from London and a one-hour drive from Bristol.
Planning to visit a Christmas market this winter? Don't forget to submit your photos to the #OMGB photography competition for a chance to win a weekend trip for you and a guest to a British city of your choice!