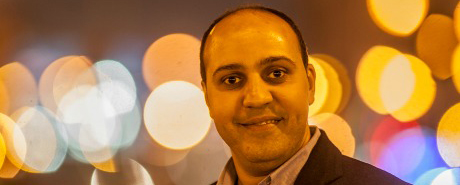 Egypt's cultural manager Mohamed El Ghawy on children, arts and education
Words: Ati Metwaly / Photo: Sherif Sonbol
'Life is like a train. The train moves from one station to the next and it's your job to keep it on track. As you drive your train, you will see people jumping on and others leaving halfway through. You will also find those trying to redirect or even stop your train, but you should persevere and never lose sight of your route. Embrace those who want to join or follow you as they will help your train move faster, and never forget to learn from your journey,' Mohamed El Ghawy quotes his father Abdel-Meguid El Ghawy, his greatest mentor.
Taking his father's words seriously all his life, El Ghawy has continued to move his train from one station to another, developing, learning and making achievements, while creating change in the community, focusing on the education of children and the young through the arts.
El Ghawy is the founder and dynamo behind the over one decade-old AFCA for Arts and Culture, an independent organisation with a mission that works with children and the young in English, Arabic and French, following education through art. He is also the founder and artistic director of the Hakawy International Arts Festival, an annual event launched in 2011 that brings Egyptian and international theatre for children and other activities to Cairo and the provinces. 
At the beginning there was theatre
'I began my artistic life with theatre activities at Cairo University's French Literature Department,' he continues, recalling Nota bene, the students' theatre troupe in which he participated. His dynamism took him beyond just acting as he also got involved in organising trips for the department – an activity which, though he did not realise it back then, constituted his very first experience in creative management. Though, as he says, those organisational experiments lead to much fun, many successes but also occasional failures, 'it was all an important learning experience. I learned a lot from my mistakes. I also realised that planning is the core of success.'
As he continued on his journey with theatre even after university, often as an actor, he always liked to be involved in the logistics of the production. 'I was the one trying to find places to rehearse and perform; I looked after the budget etc. At the same time, I was attending a lot of theatre workshops, including those tailored for storytellers.'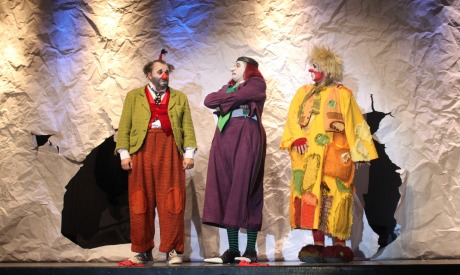 Aga Boom performance during the Hakawy festival in 2016 (Photo: Ati Metwaly)
El Ghawy's creative expression began to mature. In 2000, he started working as a storyteller at the Cairo French Institute's library and soon after he became a drama teacher at the Oasis International School in Maadi, a job for which he had to be trained to meet the requirements of the International Baccalaureate curriculum. He feels it was this experience that allowed him to approach art education practices from the academic perspective. 
With various activities feeding into one another, not only did the weekly storytelling at the French Institute continued, they also became increasingly popular: the group of children began to grow and, in no time, the storytelling expanded to other venues and events, including the annual Cairo International Book Fair. 
When in early 2004, the Institute's library closed for renovation, the parents of the children attending the sessions asked El Ghawy to continue, informally, in their homes. 'It was really amazing. Each time, we had to rearrange the furniture so the house could accommodate all the children,' El Ghawy smiles, his voice revealing a nostalgia for the years that proved to be pivotal for his future endeavours.
A wish come true
El Ghawy recalls another event that took place around the same time: 'I remember it was 31 December 2003. I was on a felucca with several people from Egypt, France and Belgium whom I met while working on a theatre project. It was a New Year's trip down the Nile, a very organic one, I must say. We had our sleeping bags and ate food passed to our boat from other boats; we interacted with the locals. So that evening, we played a game that included everyone making a wish… I said my wish was to open my own centre that would use arts as an educational tool.'
The enthusiastic felucca participants took El Ghawy's wish seriously and began thinking about a name for the potential centre. This was when the name Académie Francophone Cairote des Arts, abbreviated as AFCA, was born.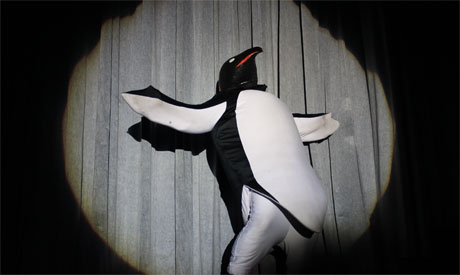 Frogz performance during the Hakawy festival in 2014 (Photo: Ati Metwaly)
It didn't take long for the wish spelled out on New Year's Eve to turn into reality. In June 2004, El Ghawy launched an NGO specialised in art education for children. Naturally, he named it AFCA. Pointing out the luck with which he was blessed, El Ghawy adds, 'I was already holding storytelling sessions in a private home. The hosts suggested that I rent another apartment they owned on the building's ground floor and turn it to AFCA's premises, in Dokky.'
At first, the NGO worked basically in French, offering workshops for children in a variety of artistic disciplines as well as organising creative camps during holidays. 
While AFCA developed, as El Ghawy asserts, he still needed to learn a lot about management, something he began to feel particularly strongly when, a couple of years later, his second branch had to close only a few months after its opening. 'We realised that strategic planning is the key. Though we practiced planning, we were not always following our plans, hence the results.' This experience only added to El Ghawy's conviction that, alongside AFCA's activities, he must work harder on his personal development as an art manager.

Mohamed El Ghawy during the Arts Management Training, February 2017 (Photo: courtesy of AFCA for Arts and Culture facebook page)
He joined arts management courses offered by the Culture Resource (Al Mawred Al Thaqafy) and began collaborating with many NGOs. 'Between 2008 and 2010, we did a lot of projects, visited many schools where we practiced education through arts, expanded our storytelling activities,' El Ghawy recalls those busy years – until 2010, 'the first crucial year in my development,' when he was accepted at the DeVos Institute of Arts Management fellowship programme at the Kennedy Center for the Performing Arts, Washington DC. As part of this programme, El Ghawy attended intensive courses in arts management through three consecutive summers in 2010, 2011 and 2012, expanding his knowledge and his networks.
Supporting passion with knowledge and skills
'Almost immediately after the first sessions, and still in 2010, I decided to apply a few strategic changes to AFCA. I relocated the NGO to Heliopolis, a district which, as my studies showed, was in great need of AFCA's activities. On the other hand, in order to expand beyond the Francophone audience, we stopped using the French name, and started presenting ourselves as AFCA for Arts and Culture, incorporating activities in English and Arabic…'
It was also in 2010 that El Ghawy began laying the groundwork for an arts festival for children, which he hoped would take place in March 2011 but, after the January Revolution, had to postpone to June. And while a lot of cultural players were challenged during and right after the revolution, El Ghawy says this was a time when AFCA activities intensified. 'The schools closed for almost two months. Children had a lot of free time so parents began bringing them over.'
El Ghawy mentions another life-changing experience when in 2013 he was granted the UK's Chevening/Clore Fellowship (Leadership Programme). And as he always puts newly gained knowledge to practice, by the end of the same year he had created a partnership with the Concordia French International School in New Cairo. 
AFCA and the festival have since grown considerably. Following its core mission of 'educating in a different dimensions through art,' the company has established itself as a fundamental player on today's artistic scene, embracing children and young people from all social and educational backgrounds.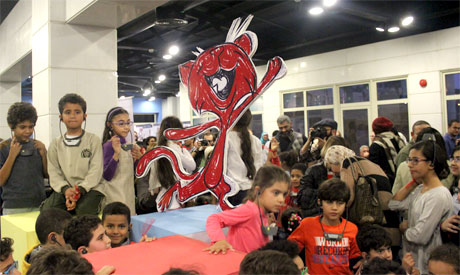 Opening of the 5th Hakawy International Arts Festival for Children at the Hanager Arts Centre, Cairo. 9 March 2015 (Photo: Ati Metwaly)
'The train has to keep moving forward'
A patient arts manager, meticulous planner and a passionate cultural player, El Ghawy already has numerous plans on his desk. Capitalising on the success of the recently launched Arts Management Training, AFCA will initiate a platform for mentorship and an active experience-exchange opportunity for cultural players. At the same time, he wants the Arts Management Training to become an annual event, each year bringing together Egyptian and international speakers, independent and governmental cultural players.
On the other hand El Ghawy's long-term plans, which cover five years, are filled with cooperations and developments within AFCA. He hopes that by 2020, he will be able to turn AFCA to an accredited school for arts covering all ages, 'something that is already practiced in many parts of the world, like for instance the Steiner Education system whose curriculum involves a lot of arts as tool of education,' he explains. 
This is an abridged version of the original article. The article was first published in Al Ahram Weekly.