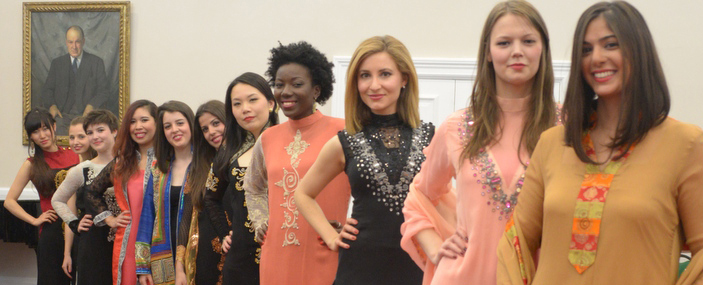 A musical, cultural and glamorous evening to bring the softer side of Pakistan to London was held by Chevening Scholars from Pakistan at the William Goodenough House.
Aasia Saail Khan, Sumbal Agha and Umar Mahmood Khan, with the help of Team Young Pakistan at Goodenough, presented their show 'East meets West' to an audience of over 125 guests from London, Europe, Canada, Asia and America.
Beats of the Sufi Music and the fascinating colours of the East, combined with the multinational model lineup of the West, led to an exciting evening of fashion and glamour. 
Aasia, who was the designer and coreographer for the event, was delighted with how the evening turned out.
'Keeping alive the culture and tradition of community living is really encouraged by Chevening and Goodenough College, and this was a great chance to mix and show off our heritage with all types of students.
We showed one of the most beautiful sides to Pakistan, and the audience seemed to really enjoy themselves.