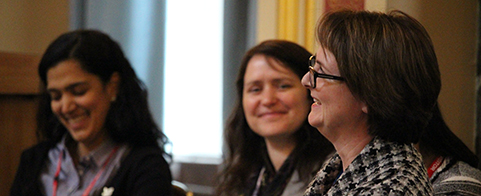 A group of diplomats from across the globe have shared their unique stories with Chevening Scholars in the latest event in the Chevening lecture series – 'A Diary of a Diplomat'.
Hosted at the Foreign and Commonwealth Office, scholars were given the chance to meet and chat to a number of special guests, who each had their own intriguing stories. 
Karen Pierce CMG, the chief operating officer at the FCO, was the first guest on stage, before a panel discussion with Kathy Leach, Joint Head Policy Unit at the FCO, Carolina Sena Barrera from the Embassy of Uruguay to France, and Beatriz Mejia Asserias from the Embassy of Colombia to the UK.
Social Media Ambassador Alice Budisatrijo went along, and gave her account of the evening's events:
'The diplomatic profession may conjure up an image of working the chandeliered reception rooms in exotic countries and being driven around in a flag-bearing motorcade. But four women speaking to more than 70 Chevening scholars at the Foreign and Commonwealth Office's palatial Locarno Suite told the real stories of a diplomat's life.
The FCO's Chief Operating Officer Karen Pierce started off with her candid account of climbing the ladder after failing a Japanese language exam in her first posting. The setback motivated her to get into security policy. She became a specialist in the field and was subsequently posted in New York and Geneva, before being appointed the British ambassador to Afghanistan last year.
In the 333-year history of the FCO, Ambassador Pierce is one of only six women with children to have made it to director general level. This is despite women making up half of the office's board members, the group that monitors foreign policy priorities and service delivery targets set by ministers.
When asked about challenges as a female top envoy, she said she would start off being more deferential to avoid appearing like a "Western diplomat lecturing a local leader" until she built a relationship and rapport with her counterpart in a new country.
She proudly shared that when one of her sons was six years old, he wrote in an essay: my mommy has a job, and her job is to help Bosnia.
Balancing work and family life was the focus of the second speaker in the program, former British Ambassador to Armenia Kathy Leach. She in fact shared the job with her husband, Ambassador Jonathan Aves. They took turns on a four-month rotation so one of them was able to look after their three young children.
'It raised eyebrows in the beginning,' she said, with the Daily Mail calling it 'bizarre.'
'Armenia is a conservative country but when people learned about both of us a lot of the question marks fell away,' Ms Leach said. She insisted that flexibility in a working life is a great thing that an organization can give, and it would pay off.
Carolina Sena Barrera, a 2011 Chevening scholar from Uruguay, spoke next about her posting in the consular service in Paris. The nature of the job is to look after Uruguayan citizens in the city, mostly when they get in trouble.
'The toughest part of is to manage expectations of what the consulate can do for them,' Ms Barrera said. If someone gets robbed, a counsellor can help with issuing a new passport, 'but not changing flights, booking hotels, or getting their money back!'
More laughter came from 2009 scholar Beatriz Mejia Asserias' account on being a Colombian diplomat in London. 'If you dream about the cocktails or receptions with the Queen, you should know that the day to day job just involves a lot of briefings,' she said. But, she added, today's diplomats can spice up the job by engaging more with the public through social media.'