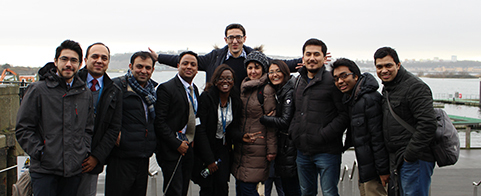 Chevening Scholars took a first-hand look at political devolution in Wales, as they visited the National Assembly for Wales in Cardiff.
As part of the 'Best of British presents…' series, scholars were treated to a day of language, culture, and politics, thanks to our partners – Cardiff University.
To kick off the day, scholars were welcomed to Cardiff by vice-chancellor Prof. Colin Riordan, before having a lesson in Welsh language from Prof. Sioned Davies, Head of the School of Welsh at the university. Sioned taught the scholars how to speak basic Welsh, and they also had a go at pronouncing the longest place name in Wales: Llanfair­pwllgwyngyll­gogery­chwyrn­drobwll­llan­tysilio­gogo­goch. 
A talk on contemporary Welsh politics from Prof. Roger Scully of the Wales Governance Centre was next on the agenda. Roger outlined the changes in the political status of Wales over the past 20 years, demonstrating how opinions have shifted from being anti-devolution to pro-devolution. He also answered a number of questions from scholars on topics ranging from the Welsh position on the upcoming EU referendum, how much control the Welsh assembly has, and why there has been such a shift in political view in Wales in recent times. 
With the day flying by, scholars hopped on to buses to take them to the National Assembly for Wales, otherwise known as The Senedd. Set in the beautiful Cardiff bay, they posed for photos before heading inside to explore the stunning building. 
They were treated to a tour of the building, with the guide explaining the specific details about the architecture and the environment the designers had tried to create, and were also able to sit in the gallery and listen to the finance minister, Jane Hutt, debate with fellow politicians over the upcoming budget. 
Finally, after a long but insightful day, the scholars were treated to a reception in Cardiff bay where they enjoyed canapes and were able to network and reflect on their learnings from the day.