My name is Marijose Vilá and I have been working at the British Embassy Guatemala City for the past three years as the Prosperity and Projects Officer & Chevening Officer for Guatemala and Honduras.
Every year I look forward to engaging with Chevening Alumni in both countries to co-develop projects that will have a positive impact in our communities. In recent years, the community and I organised panel discussions on gender equality, transparency & good governance, we hosted design thinking workshops to come up with creative solutions to local issues in Guatemala City and we travelled together to clean up beaches as part of our Beyond Plastics Campaign.
The COVID-19 pandemic has certainly pushed us outside our comfort zone and encouraged us to contemplate new and innovative ways of carrying out business as usual and the way we deliver projects. Jeffrey Davis wrote an article in Psychology Today that highlights the importance of creative resilience in times of crisis. He defines creative resilience as 'the capacity to generate and act on positive solutions under the pressures of challenge and change. It is reimagining our environment and shifting our perspective to discover new possibilities.' Thus, in order to have an open mind-set to identify creative solutions we need to embrace change under challenging circumstances.
At the start of this year, several Chevening Alumni envisioned organising and facilitating six interactive workshops on Ecological Economics for university students and recent graduates to be delivered in Guatemala's two largest cities. They also planned to host their first event inspired by Pint of Science called "Science For All". Local academics and Chevening Alumni would share their research with the general public in a relaxed setting. By early March, with tight restrictions in place, our projects as initially envisioned were no longer viable. Daunting questions were raised:  Was it possible to deliver impactful projects amidst a pandemic? Could we adapt activities and still secure enough engagement?
To answer confidently YES to the above, we first had to tap into our creative resilience to brainstorm viable solutions, develop engaging marketing strategies, and define realistic delivery timelines. We adapted both activities to be implemented entirely through virtual platforms. The Ecological Economics workshops were delivered in a span of three days with a one-hour and a half session each. A team of six alumni shaped the agenda, defined the homework for participants, and delivered the content. Participants received recognition certificates for attending all the webinars and completing the assigned homework. Each of the webinars individually secured over 140 participants.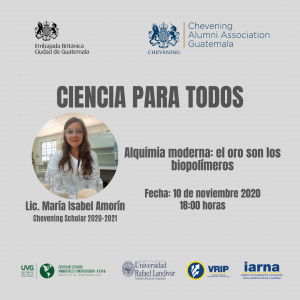 With the co-sponsorship of two local universities, Science for All evolved into a three-day online festival. Six academics presented their research in topics ranging from the use of shrimp shells to clean apparel industry residual waters to the effects of climate change in Parlama turtles and other reptiles in Guatemala. Panellists also included a Chevening Scholar and a Chevening Alumnae both based in the UK.  Close to 200 people engaged virtually through the festival. Because we decided to go forward with the projects we were able to connect with alumni who lived overseas, our lead alumni for the Ecological Economics workshops – Kareen Urrutia – was invited to the radio, and a professor published an opinion article in a local newspaper about Chevening and our webinars.
I encourage you to welcome the future and the uncertainties it might bring with a fresh perspective. Be creative! Be resilient! Amid the times of crisis, continue working together on important issues to further drive our connections and impact as a Chevening community worldwide!