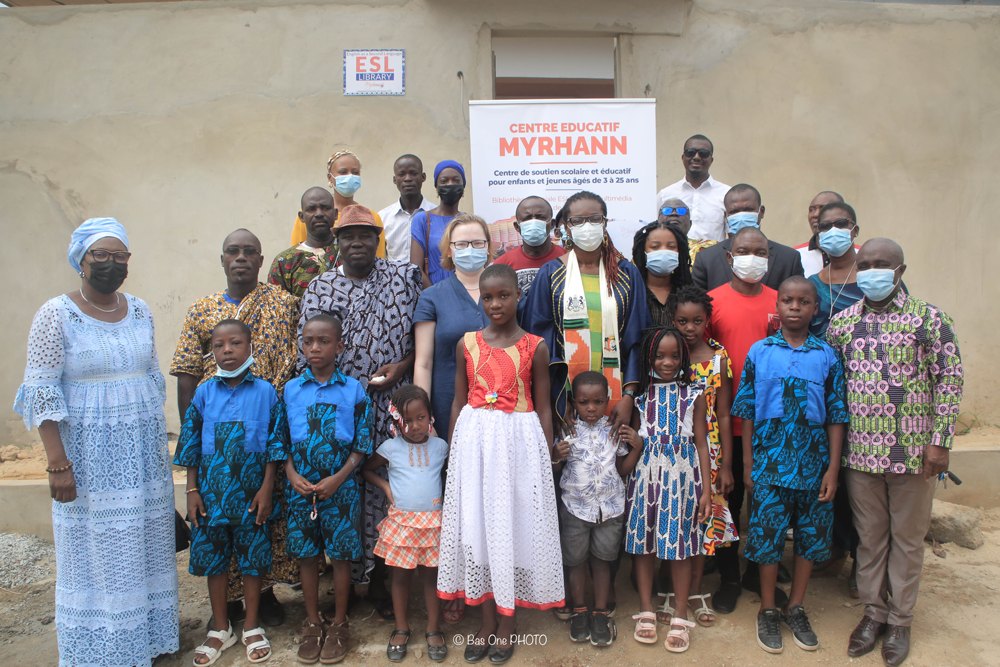 Côte d'Ivoire scholar opens social library for young people with help from the University of Stirling
Chevening Scholar Marie-Anne Gisèle N'Guessan Epse Assanvo had a dream of setting up a social library in Côte d'Ivoire to develop reading skills in children and young adults from underprivileged backgrounds.
It was a dream that brought Marie-Anne all the way from Côte d'Ivoire in West Africa to the University of Stirling in Scotland, where she developed the knowledge and the network to bring her idea to life.
The ESL Library is aimed at children and young adults from 3 to 25, and it was recently unveiled in Bingerville, a town in the south-eastern region of Côte d'Ivoire. Catherine Brooker, the UK's ambassador to the Côte d'Ivoire, opened the library to guests and demonstrated some of the creative activities that young library visitors could take part in.
The library is part of the Centre Educatif Myrhann, and aims to use story-telling to develop young people's reading skills, as well as helping them to learn English as a second language. Staff at the library utilise creative activities such as drawing, painting and crafts to help make the learning experience memorable and enjoyable.
For example, at the launch event, children aged 3 to 5 read The Red Dinosaur, followed by a jewellery-making activity where they created a bracelet featuring an English word from the story. Students aged 12 to 15 read Martin Luther-King's speech, "I have a dream", before using a laptop to design their own dream for their future life.
The ESL Library is a project that Marie-Anne has been thinking about for a long time. She impressed the panel during her Chevening interview with her passion in this area, and was awarded a Chevening Scholarship to study Management and English Language Teaching at the University of Stirling in Scotland in 2021.
Marie-Anne said: "By selecting me as a Chevener, you gave me the opportunity to develop the knowledge and network required to make this idea real. Being selected for Chevening also gave me credibility in front of donors who gave money to renovate the house we chose to host the library.
90% of the books in the ESL Library were donated by two lecturers from the University of Stirling, who are a partner of the Chevening programme. The books are aimed at a wide-range of age-groups, and include Booker Prize-winning novels alongside literature for young learners, such as The Hungry Caterpillar and There's a Shark in the Park.
Dr Eddy Moran is Senior Lecture in Education Studies at the University of Stirling and he first met Marie-Anne when she started her MSc in Management and English Language Teaching.
Dr Moran said: "Marie-Anne soon demonstrated her enthusiasm for study and her unbounded energy, so it wasn't such a surprise when she told me about the library she was trying to establish at home in Cote d'Ivoire.
"We were more than happy to donate books to the library because we thought it was a great way to help people develop their language abilities."
Dr Anne Lawrie is Director of MSc in TESOL programmes at University of Stirling and met Marie-Anne when she joined the module "Teaching English to Young Learners".
Dr Lawrie said: "It is such a worthy cause and a wonderful opportunity for all learners, particularly the younger ones. We decided to donate the books used in one of the sessions of the module, which discussed literature for young learners, and involved looking at actual books.
"We hope that the younger age group of learners using the ESL library enjoy these titles."