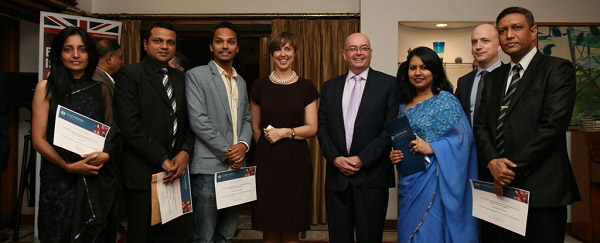 Chevening Scholars gather in Dhaka to mark 30 years of the programme in Bangladesh
British High Commissioner, Robert W Gibson recently had the honour of hosting 2014/2015 Chevening Scholars and Alumni at his residence to mark 30 years of the programme. 
Past and present scholars mingled and discussed their experiences in the UK and expectations for the next 12 months studying at some of the world's best universities.
During the evening High Commissioner Gibson highlighted the importance of the programme and the great regard Chevening Scholars are held locally in Bangladesh and around the world.
"Chevening scholars are ambassadors all around the world. They are the pioneers who uphold the spirit of mutual understanding and the aim of a shared, prosperous future."
High Commissioner Gibson announced there will be a threefold increase in Bangladeshi scholarships in 2015/2016 and encouraged all to promote the programme through their networks. 
"Earlier this year the UK government announced a significant increase in the investment it will make in the global Chevening programme. We are therefore pleased to be able to offer more scholarships for Bangladesh. We expect to award approximately 12 to 14 scholarships in total next year, a threefold increase." 
For more information on Chevening Scholarships in Bangladesh visit www.chevening.org/bangladesh