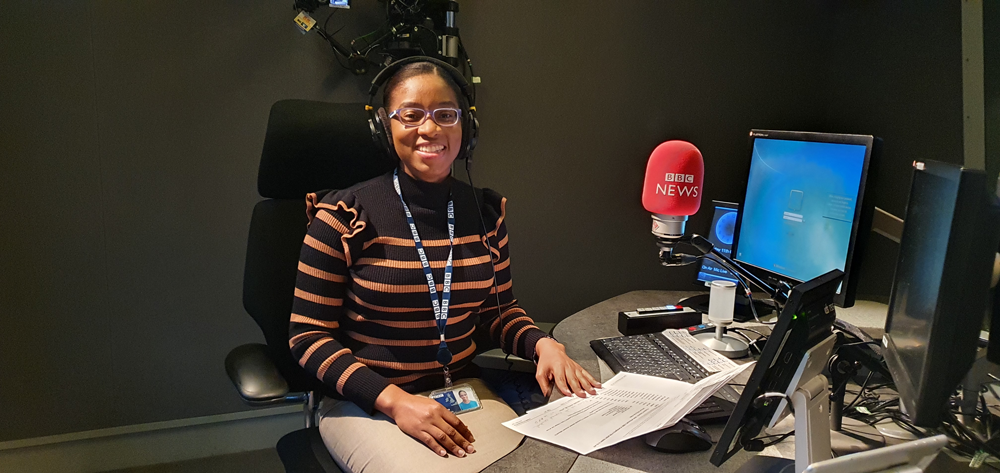 From producing news pieces to podcasting, ten Chevening Alumni have completed a three-month placement at various departments across the BBC World Service.
After a rigorous selection process, talented and experienced journalists from the Chevening Class of 2020 were placed in BBC departments to match their skills and interests.
The selected alumni would develop their media skills whilst working alongside experienced journalists in departments focusing on a range of subjects and countries including BBC Futures, Outside Source, Africa Eye and BBC Mundo.
Cheveners completed their internships between September and December in London after finishing their master's courses. This year, due to Covid-19, the internships were completed virtually with some work in the office, allowing them to build relationships with their colleagues.
Naomi Rayner, Head of Scholarships at the FCDO, gathered the ten placement participants together to hear highlights from their time at the BBC. Alumni shared positive memories of a stimulating, challenging and enjoyable experience at the BBC. They also spoke about how they plan to use this experience in their professional lives as they return to careers in their home countries.
How did their placements go?
Maria Fernanda Cruz Chaves from Costa Rica worked at BBC Mundo and was inspired by her colleagues and editors. She said: "I learned how to listen carefully to the needs and interests of our communities and audiences before pitching and publishing stories.
"I learned to face challenges in life from a beginner's perspective: it's never time to stop learning from others, and I'm returning home with a fresher perspective."
Pascal Kwesiga from Uganda worked at BBC Future where he enjoyed writing longer articles on a variety of topics, and working with the team there to help shape his ideas. Pascal said: "When it comes to storytelling, BBC Future is in a league of its own. Its wonderful team believe that no topic is too small to be fascinating, and no subject is too overwhelming to tackle.
"I wanted to leave with insights to unlock intriguing stories from everyday things that may seem mundane, and I am not disappointed. I worked on pieces on water, insects, twins, food and seaweed."
Pascal's highlight was writing and publishing his first piece, which asked, "is seaweed is the future of flying?"
Andrea Chisholm from Jamaica worked at BBC Outside Source which gave her first-hand experience of the international experiences that she interested her.
Andrea said: "One highlight for me was connecting with a young man who spent weeks at the Belarus/Poland border, in the middle of the crisis there in 2021, before being accepted in Germany. His story was a powerful account of the hardships endured by people seeking to leave areas such as Iraqi Kurdistan in search of a better life in European countries."
"The feeling of being on air was also indescribable. I heard messages from friends in Jamaica and round the world saying they were proud to hear my voice on the BBC, which was heart-warming."
We expect the programme to run again next year, with recruitment open to current Chevening Scholars, starting in March 2022.