1,650 Chevening Scholars were formally welcomed to the UK at Chevening Orientation, our inspiring inaugural scholarship event held at ExCeL London on Saturday, 21 October.
Orientation marks the start of their year studying at universities up and down the country and is one of only two times in the academic year that all scholars will be in the same place at the same time.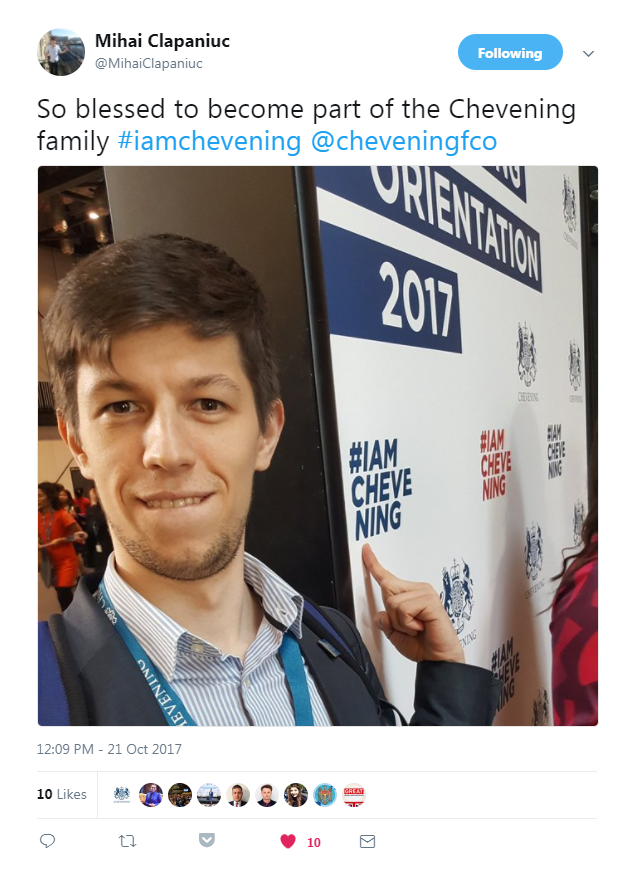 Throughout the day scholars heard about the opportunities available to them this year and learned what it is to be the newest members of a respected global network, 35 years old and 48,000 strong.
Senior Programme Officers Morna Firth and Frankie Clarke welcomed scholars to formal proceedings at Orientation and emphasised the scale of scholars' achievement in being here, informing them that 65,000 people applied for their 1,650 places, making them the succesful 2.6%.
Morna and Frankie outlined how scholars could get the most of their year in the UK, and described the ways in which staff at the Chevening Secretariat could help them during this year.
Foreign and Commonwealth Office welcome
Scholars then received a welcome from the Foreign and Commonwealth Office, delivered by Andrew McHallam, Head of the Scholarships Unit.
He said: 'Chevening is an opportunity for you to study your chosen subject at a top university, but it is much more than that. It's also a unique opportunity to learn more about the UK, its culture, its landscape, and its people.'
At the start of their Chevening journey, scholars heard valuable tips for adjusting to life in the UK from Naa Ayeleysa Quaynor-Mettle, who studied an MA in Globalisation, Business and Development at the University of Sussex last year.
Naa said she was proud to have studied at one of the world's leading schools for development studies and had amazing memories from last year – of learning about British history, travelling, getting involved, and volunteering with people from all over the world.
She advised scholars to 'invest in a good umbrella, a warm jacket, and a pocket journal to keep track of your adventures'.
Between the formal presentations, the sounds of enthusiastic networking and often cheers could be heard in the main hall of ExCeL London as scholars made new connections and met again with scholars also on award from their home country. Cheveners also took the chance to meet their programme officer and take photos on board the room's centrepiece, the vintage red double-decker London bus.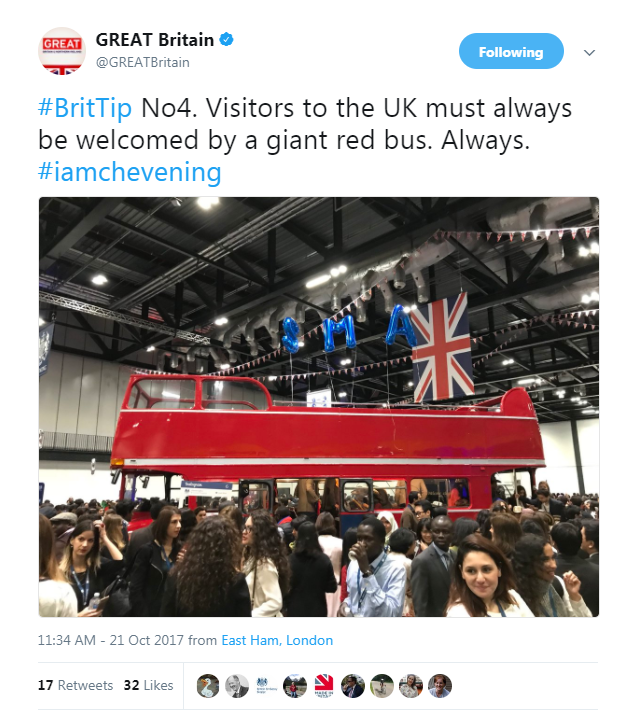 Academic networking sessions
There was further opportunity to network and debate after lunch as scholars joined a themed networking session of their choice, compèred by leading academics.
The topics on offer to scholars were business, economics, and finance; climate change, environment, and sustainability; education, governance, and development; engineering and design; international relations and politics; law and human rights; media and communication; and public health and medicine.
Thought-provoking questions placed on tables around the rooms allowed scholars to make connections with like-minded Cheveners and discuss issues that they were passionate about.
Keynote speeches
Scholars then returned to the auditorium where they heard a wide-ranging and interesting speech from Michael Hastings, Lord Hastings of Scarisbrick CBE, Global Head of Citizenship at KPMG.
Lord Hastings covered topics including globalisation, nation states, technological progress and digital innovation. He urged each scholar to find out and act on their life's purpose, and to use their privileged position and global outlook to help others around the world.
Gender equality
Joanna Roper CMG, Special Envoy for Gender Equality at the Foreign and Commonwealth Office, followed Lord Hastings with a talk describing how the British government was achieving gender equality through legislation and global action.
She outlined the government foreign policy that aimed to deliver for women and girls around the world, through three key pillars. These were: that women and girls should be equal, empowered both economically and politically, and safe.
Joanna Roper said: 'I hope that as our future leaders you put gender equality at the heart of everything that you do.'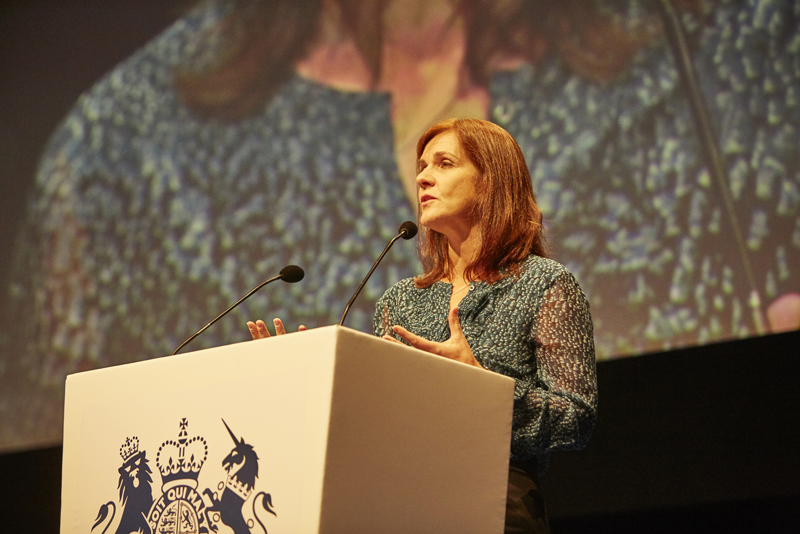 Ruth Shaw, Head of Soft Power and Strategic Engagement at the FCO, followed by thanking the Chevening Secretariat, and also thanked scholars firstly for competing for their chance to be here, and then for giving up time with family and friends back home to make lifelong memories and relationships with the UK.
The scholars then received a special video message from Boris Johnson, Secretary of State for Foreign and Commonwealth Affairs.
Finally, Morna and Frankie launched the 2017/2018 Chevening Relay with the help of two Chevening Social Media Ambassadors, Yasmine Fofana, who studies at the University of Surrey, and Chris Charamba, a scholar at the University of Glasgow. They were accompanied by the iconic theme from Chariots of Fire. Morna and Frankie encouraged scholars to work together to beat last year's relay points target.
The networking continued after the formal proceedings, with scholars returning to the main hall for a drinks reception, where they swapped plans and contact details for a stimulating year ahead.