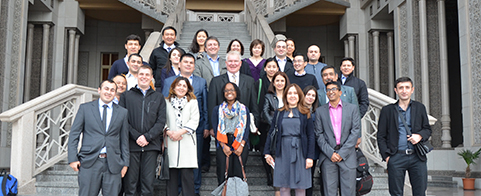 Chevening helps to build regional cooperation in the heart of Asia
The British Embassy in Dushanbe recently hosted the first ever Central Asia and South Caucasus Alumni Conference in Tajikistan.
The conference, which was the outcome of a successful bid to the Chevening Alumni Programme Fund (CAPF), was prepared, organised and delivered by the Chevening Officer from Tajikistan, Shuhrat Sharipov, and compered in style by HE Mr Hugh Philpott, British Ambassador to Tajikistan.
Around 30 Chevening Alumni from Azerbaijan, Armenia, Georgia, Kazakhstan, Kyrgyzstan, Tajikistan and Turkmenistan were selected to participate in the three day conference, with an overall aim to strengthen ties and build cooperation among the countries in the region.
The conference was filled with constructive and challenging discussions, during which Chevening Alumni and guest speakers shared their ideas and expertise relating to regional integration, human rights, corruption, migration, social entrepreneurship and tourism.
A Chevening focused session on the alumni network also included a SWOT analysis which helped each representative to critically assess their alumni group's successes and areas for improvement in country, and at a regional level too.
Outside of the sessions, the Tajik hosts ensured there were great opportunities for participants to socialise, network and develop a better understanding of each other and their countries. It was clear for all that there were many more commonalities than differences, with new friendships forged, strengthened bonds and a commitment to work together for the positive benefit of their region.