Six Cheveners from around the world found themselves unexpectedly reunited in Hong Kong this year as participants of the 2018 AsiaGlobal Fellows Program. Launched in August 2017, the program is a leadership development initiative based at Hong Kong University (HKU), and is aimed at outstanding mid-career professionals working in public policy. We're delighted that six of the twelve fellows chosen in 2018 also shared the distinction of being Chevening Alumni!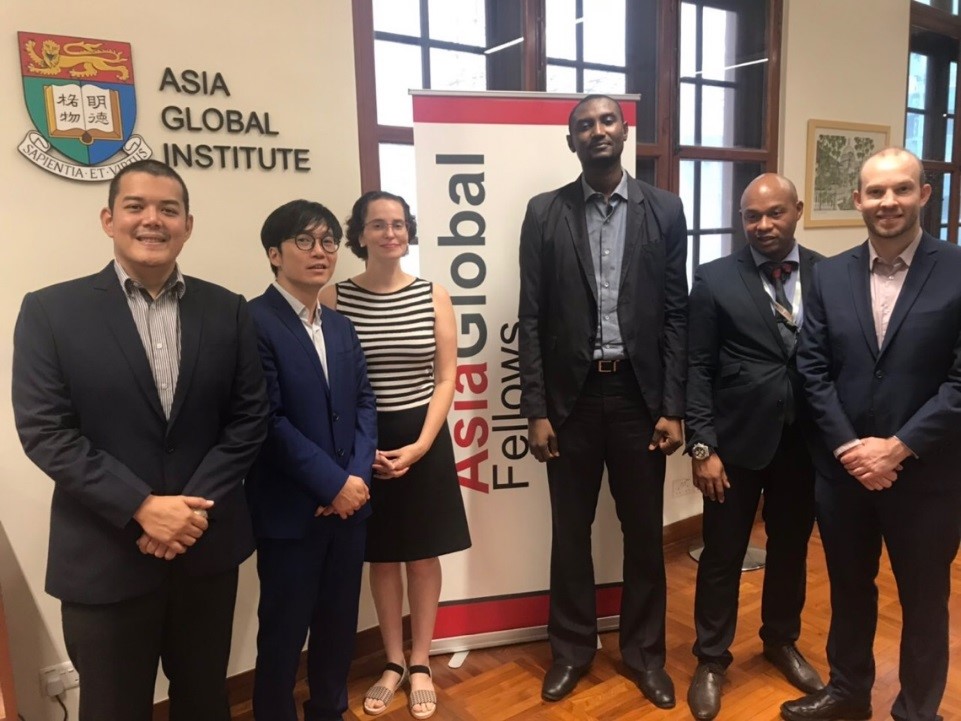 A sense of nostalgia
Over the course of their three-month residential leadership training, these Cheveners in Hong Kong took the opportunity to connect with one another and to reminisce together about their time studying in the UK. Despite receiving their awards many years apart, they identified a number of similarities in their Chevening experiences, underpinned by a strong core of shared values.
Wallace Yu (Hong Kong, 2000) felt a strong sense of nostalgia upon finding himself reunited with his fellow Cheveners at HKU. 'For me, the AsiaGlobal Fellowship experience re-lives the Chevening spirit — the emphasis on multiculturalism, a circle of individuals who excel in their professions, and a strong culture of intellectual exchanges,' he said. 'Little had I known that the fond memories of my London student days would all come back to me again!'
An international perspective
Many alumni who took part in the AsiaGlobal Fellowship look back on their Chevening Awards as the catalyst for their desire to pursue further international education and intellectual engagement with the wider world. Ira Paulo Pozon (Philippines, 2013) describes studying for his LLM in the UK as 'the genesis of the internationalisation of learning' for him, leading him to 'seek further similar experiences with the US State Department's International Visitor Leadership Program (IVLP), and the AsiaGlobal Fellows Program.'
Bruna Mara Liso Gagliardi (Brazil, 2003) also credits Chevening with setting her 'on the path to becoming an internationalist'. She cites the 'experience of learning from other cultures and living abroad' as extremely valuable and, since completing her postgraduate studies, she has had the privilege of working in Brazil, South Korea, Belgium, Costa Rica, and Hong Kong.
New paths
George Lwanda (South Africa, 2007) reflects on his time as a Chevening Scholar as 'the start of [his] career and personal journey of growth'. On a professional level, his postgraduate studies taught him 'the importance of taking a broad understanding of development', and prepared him for his current role as a senior adviser in the United Nations Development Programme (UNDP).
It is a reflection shared by Bradley Hiller (Australia, 2007), who adds that his Chevening experience 'transitioned [him] onto a new academic and career pathway…in international development and corporate responsibility'.
The power of the network
It is a testimony to the strength of the Chevening network that where there are concentrations of excellence and leadership, such as on the AsiaGlobal Fellowship, you are sure to find Chevening Alumni strongly represented. Chibueze Nnanna Anyanwu (Nigeria, 2013) cites the networks that he established through Chevening as one of the key factors that has enabled him to progress in his career. By using these networks, he has been able to work 'with African leaders across private and public sectors…driving real impact, and transforming [his] continent.'
Bradley was similarly reminded of the power of the Chevening Alumni network during his time in Hong Kong. He says: 'Uniting with Chevening Alumni in Hong Kong has emphasised to me the potential value of such networks in helping to solve global challenges.'
The road ahead
Reflecting on both the AsiaGlobal Fellowship and the Chevening Awards, Nnanna praises the shared culture of the two programmes, both of which espouse 'a culture focused on raising leaders with global perspective on issues.' It is these leaders, he says, who are 'able to interrogate mega and regional economic, political and social trends, and provide fresh and holistic perspectives.'
Now that the Fellowship has ended, the six Chevening Alumni who participated will return to their lives and careers, with renewed dedication to contributing to positive change in their countries, regions, and professional sectors. They will also take away the reminder that Chevening isn't just a year of study, but a lifelong journey of excellence.