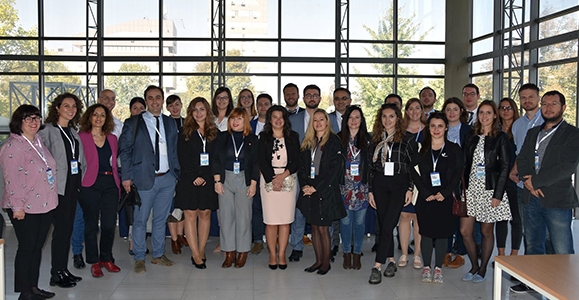 On 6 October 2018, the Macedonian Chevening Alumni Association (MCAA) hosted a roundtable to discuss the future of the Western Balkans in light of the fifth Western Balkans Summit, which was held in London in July 2018. Chevening Alumni from across the region were in attendance, with guests travelling from Albania, Bulgaria, Kosovo, Montenegro, Serbia, and Bosnia and Herzegovina to take part.
The roundtable comprised two parallel sessions: economic stability, and connectivity (including youth and education); and regional security, corruption, and political stability. This enabled attendees to focus on their areas of expertise and work together to produce a set of recommendations for their respective sectors.
Economics and education
Alumni attending sessions on economic stability, youth, and education devised the following recommendations for leaders in the Western Balkans:
• Create an innovative digital growth model that will appeal to the entrepreneurial spirit of the 'millennial' generation
• Improve public-private partnerships in key sectors to reach higher economic development
• Focus on topics that are important to European policymakers (such as GDPR, aging, public expenditure) in order to become more integrated with European processes
• Move towards more data-driven healthcare by improving electronic health records and state-led health innovation
• Address the challenges to economic growth in the Western Balkans, in order to make it an even more vibrant economic environment in which to conduct business.
Security and stability
The recommendations produced by the regional security, corruption, and political stability sessions were also characterised by their pragmatic and collaborative foundations. Alumni urged the Western Balkan countries to work towards security and stability in the region by focusing on both domestic reform and regional engagement. Individual countries were advised to take local ownership of their resources and prioritisation of threats, but also to enter into written contracts that secure cooperation across the region. In addition to tradition security and stability risks, there was also a strong focus on cybersecurity, something alumni would like to see enhanced in the W6 countries.
#MeetTheCheveners
As part of this event, MCAA also hosted a special information session about Chevening, where those interested in applying were able to learn more about the scholarship. To complement this session, the MCAA team ran a social media campaign called #MeetTheCheveners to showcase the journeys of Chevening Alumni from the region. Each short profile featured the Chevener's name, photo, and job title, as well as a short biography about how Chevening has become woven in to their journey as a leader and a change maker.
Many of the alumni featured in the campaign ended their biography with a sentence about what they hope Macedonia will look like in 2030. The aspirations and ambitions shared in these sentences encapsulated the trends of the entire conference, encompassing financial prosperity, regional co-operation, and a strong focus on youth wellbeing. In order to achieve these aims for both Macedonia and the whole region, Chevening Alumni groups in the region will establish a database of experts who will be available to participate in cross-border projects. Through dialogue and collaboration, Cheveners in the Western Balkans hope to see their dreams for the region become a reality.
For more information on the roundtable, please visit the MCAA Facebook page. All the photos from the event can be found in this album.