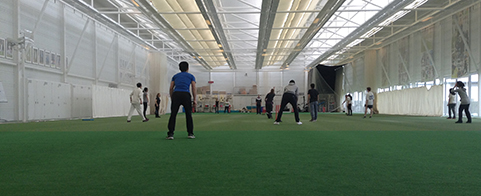 Chevening Scholars were treated to a once in a lifetime opportunity to play cricket at the England National Cricket Performance Centre, based at Loughborough University.
Taking place for the third year in a row, scholars were given access to the world class England facilities, whilst also being trained by professional coaches from the university. 
Coaches took them through the basics of bowling, batting and fielding, before later putting all of those skills together in a number of matches.
Becoming a cricket fan
Ximena Matus was the SMA for the day, and she told us how much she enjoyed the event:
'Chevening Scholars had the opportunity to travel to Loughborough to get a deep insight into cricket at the National Cricket Performance Centre from Loughborough University. Cricket is played by 120 million players in many countries, such as India, Bangladesh and the UK, and is the world's second most popular sport after football.
To be honest, I was so excited to attend this event, as I had never learn anything regarding cricket and was curious to learn it, and now I can say I'm officially a cricket fan! I still don't have preferences of team, but I can say it's an interesting sport that I really enjoyed learning about from an amazing team.
The National Cricket Performance Centre hosts one of the most sophisticated, hi-tech indoor cricket facilities in the world, as well as two first class standard grounds. We had the honor of having a training session with some athletes from Loughborough`s cricket team.
The morning began with some warm up exercises, for us to learn the basic skills for cricket, like throwing the ball, practicing batting and understanding the basic rules. As the morning went, the team upgraded the difficulty of the exercises and that's when it became more interesting and challenging at the same time. After practicing for a couple of hours, bowling and batting, we were ready for a real tournament!
Divided into four teams, we played against each other and had a lot of fun, before combining the teams and taking part in an ultimate tournament. Lead by team spirit and collaboration, we were able to apply the skills we learned from the training and were able to understand how cricket works, and we had a lot of fun playing it with our teams! After some battings, mis-hits, successful ball-catching and some that were not so successful, we could say now we had officially learned the basic skills for playing cricket.
It was an amazing day full of cricket, fun and friendships, and we want to thank the cricket team at Loughborough University for hosting us, as with a lot of patience and amazing energy they shared their knowledge and skills with us. We wish you the best for the upcoming season!'
Highlights
Want to see how the scholars got on? Check out this video, put together by Ximena.