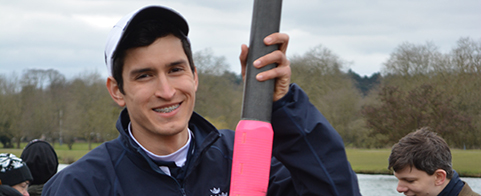 Arturo Villanueva, a Chevening Scholar from Mexico, has rowed his way into the boat racing history books after becoming the first Mexican national to row for either Oxford or Cambridge.
Rowing is a very prestigious sport at the two universities, who have been competing in what is traditionally known as 'the boat race' since 1829, and is as competetive now as it has ever been.
Arturo, who has been studying MSc Water Science, Policy and Management at the University of Oxford, has been working hard to get his place in the team outside of his studying.
He recently competed in his first race for Oxford in Henley, as he was one of eight rowers on board the 'Oxford Lightweight Blue Boat.'
'It was officially announced at the Henley Boat Races ceremony (known as "The Challenge"), that I was the first Mexican national to ever row for either Cambridge or Oxford at any Boat Race since the tradition began in 1829,' he said.
'There have been many rewarding moments on my Chevening journey so far. From the moment I first set foot on campus to Matriculation, every moment has been special.'
'That being said, the most rewarding experience so far was having the opportunity to row in the lightweight Boat Race as the first Mexican national to ever compete in the historic event. It was an honor to no only represent Oxford, but also Mexico, and I am very grateful to have been afforded that opportunity.'
'Thank you, Chevening, for making this dream a reality.'