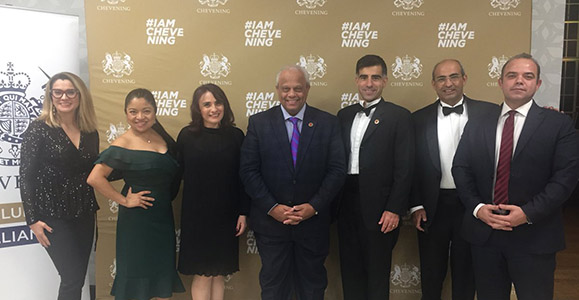 On Saturday 10 November, a typically British autumn day, alumni representing more than 22 nations gathered at Regent's University London for the Chevening Alumni Alliance's (CAA) second global forum. This flagship event of the CAA calendar attracted alumni from all corners of the world, including Haiti, Bulgaria, Jordan, Russia, Indonesia, and South Africa.
The CAA initiated the global forum as a way of bringing together alumni from across the world to discuss topics of common interest and challenges facing their respective countries. Areas of interest and speciality within the network are diverse and wide-ranging, from technological innovation and financial inclusion to international law, media, and entrepreneurship. Deep bonds of friendship, as well as strong professional collaborations, are formed during these events.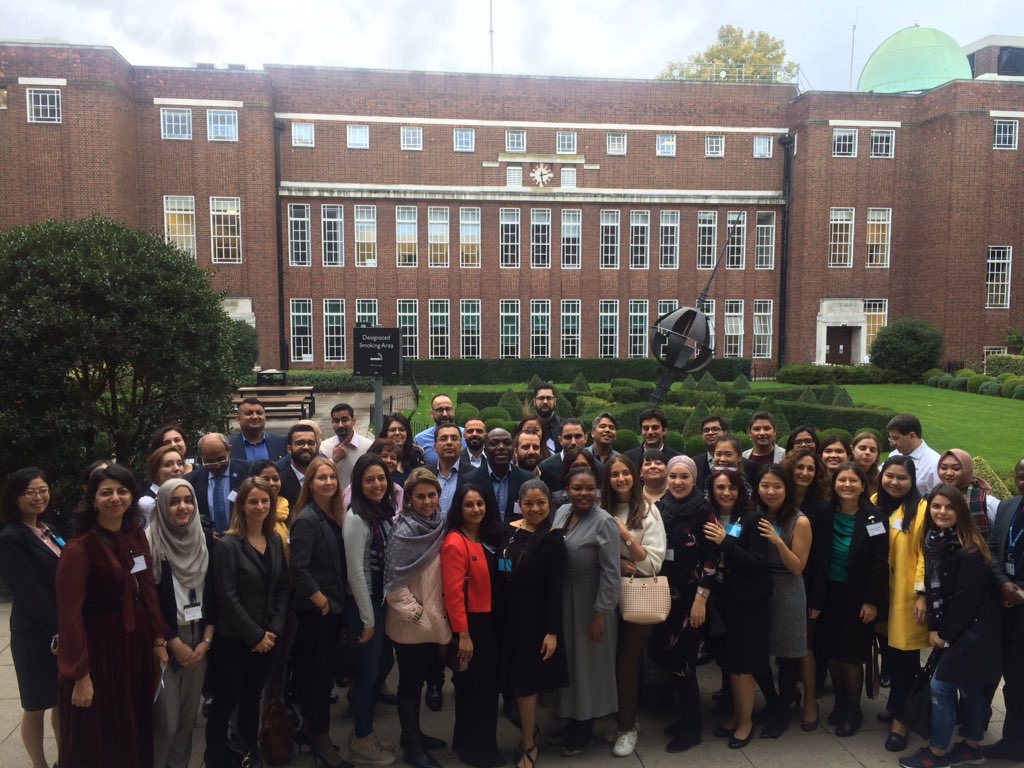 This year's theme – Frictionless Borders – was a reaction to the increase in ideological conflicts, and inward looking attitudes that have dominated the political landscapes of many nations in recent years, at a time when the world has, in reality, become more connected than ever before.
The opening speech was given by Ben Coates, Head of Scholarships at the Foreign and Commonwealth Office (FCO). Ben spoke of the 'real barriers to frictionless borders' that existed when Chevening was founded in 1983 – no internet, no WhatsApp, and a time before the fall of the Berlin Wall. Today, the landscape looks very different, but the fact remains that 'interdependence [is] the key to [a country's] success.' It is this commitment to shared ideals and collaboration that is at the very heart of the Chevening programme.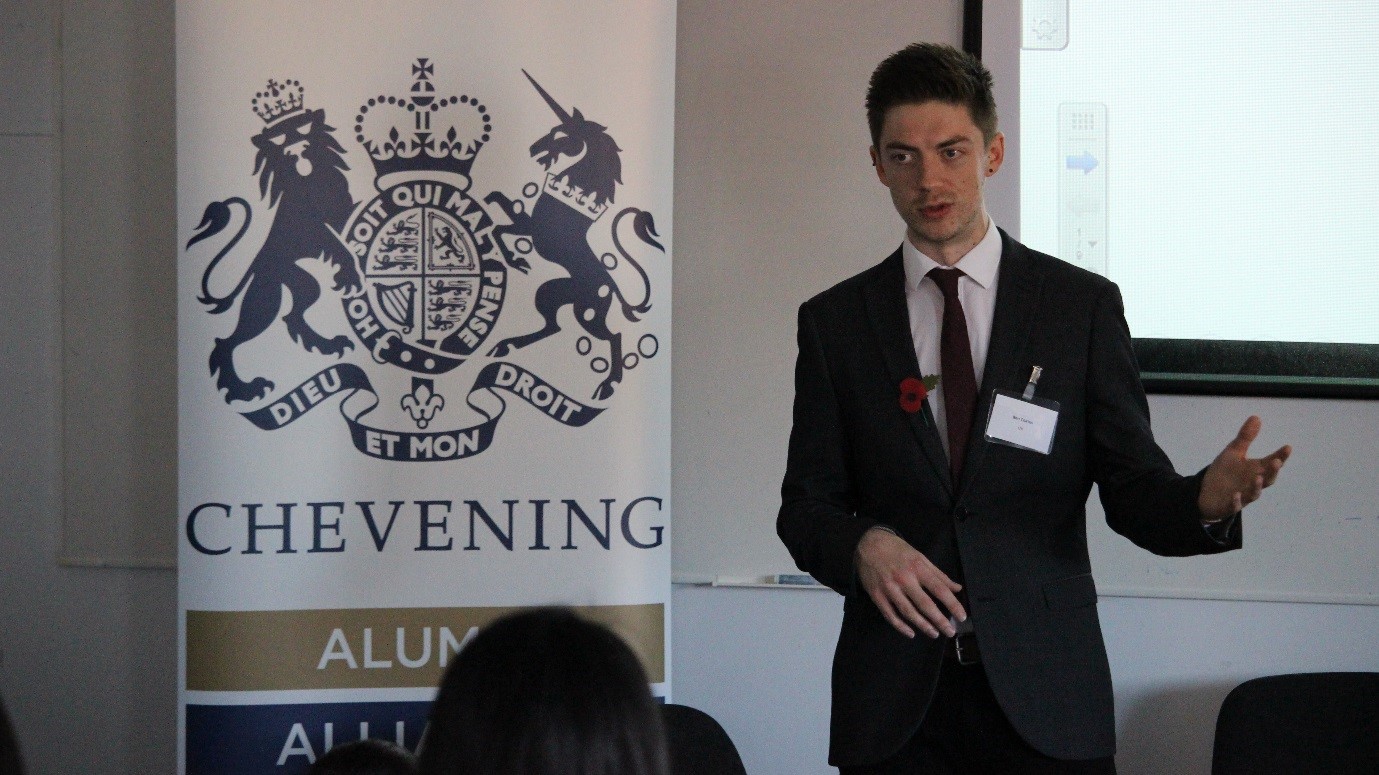 Building businesses and collaborating transnationally
During the morning sessions, speakers demonstrated the significant value of working across borders. From keynote speaker Marine Tanguy (Founder of MTArt) to a panel of investigative journalists, the message was clear: expand your geographical boundaries to achieve more.
Marine, a London-based, French entrepreneur, with links to Hollywood, described how her global experience gave her the idea to build the world's first talent agency for artists. Her agency now spans three continents (Europe, North America and Africa), and she's already looking to expand into Asia.
A panel discussion highlighted how the new, interconnected world is challenging the old, traditional concepts of investigative journalism. In a world where the Mafia and organised crime have no borders, then journalism becomes 'not a matter of what you report, but with whom you report it' (Carlo Bonino, Special Correspondent at La Repubblica). Collaboration is key to the kinds of investigations that bring to light huge stories like the Panama papers. Chevening Alumnus and political blogger Manual Delia summed it up by pointing out that 'every [seemingly] local story… is a global story.'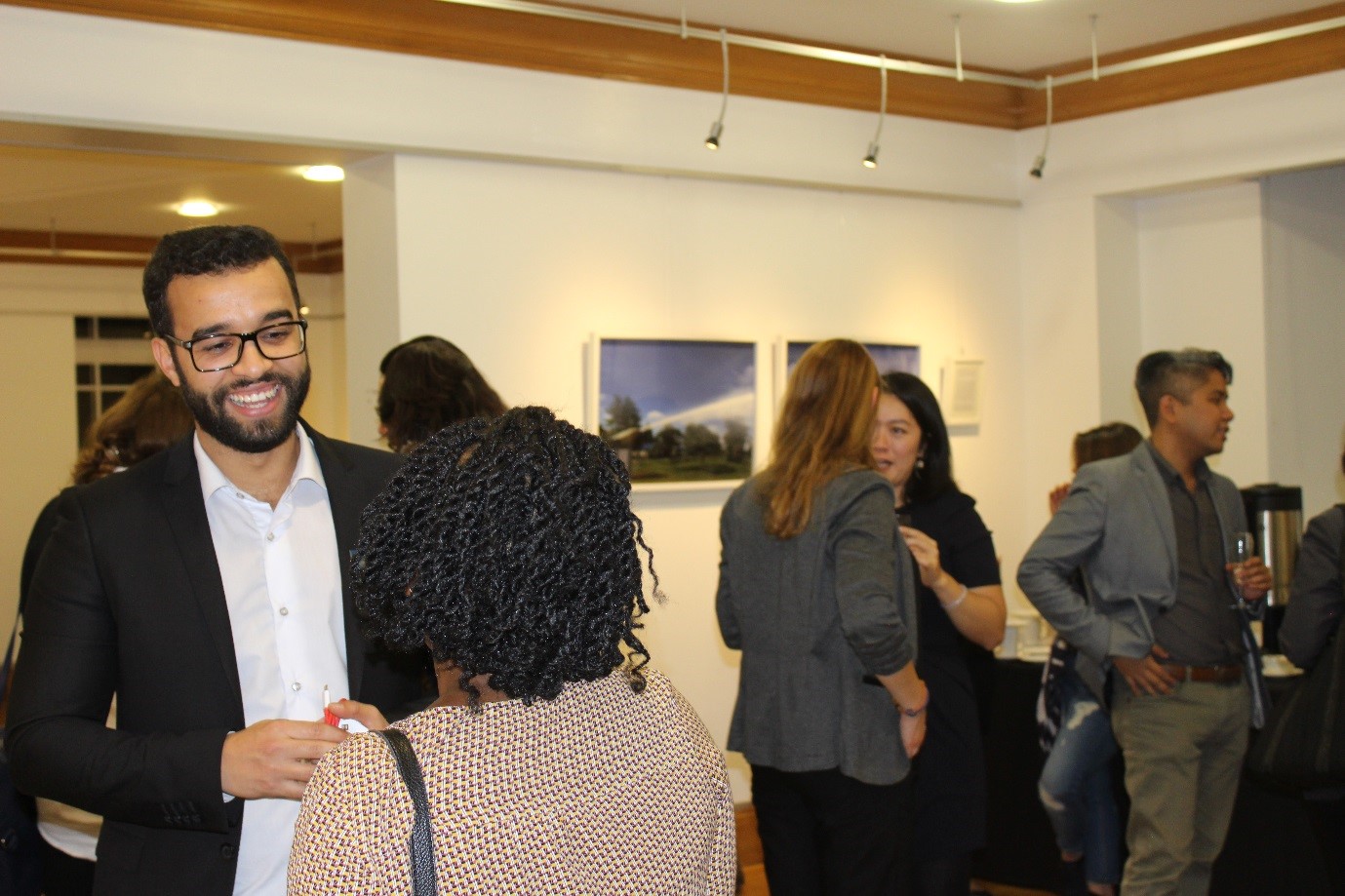 From legal hurdles to financial sector disruption
In the financial sector, must one 'disrupt or be disrupted'? And, if so, is that something to be feared? Panellists, including Chevening Alumnus Mohamed Farid Saleh (Executive Chairman of The Egyptian Stock Exchange) and Priyanka Lilaramani (Founder of Plinth.Tech), engaged in a spirited debate, prompted by panel chair Mahmoud El Sakka's insightful opening questions. From mobile banking to blockchain, the effects of technology and an opportunist marketplace were debated, with panellists weighing up their challenges and merits.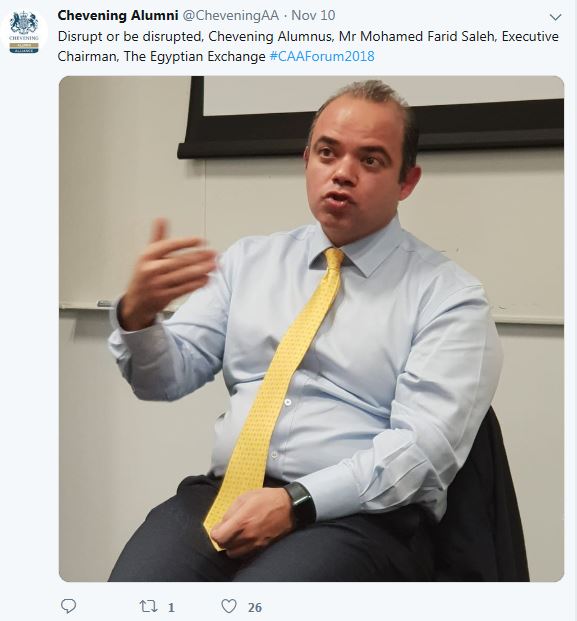 A whistle-stop tour of Brexit was sandwiched between a rallying cry for female advancement in the legal profession and a presentation on safeguarding compliance. With recent exposures of improper behaviour by some employees tarnishing the names (and good work) of international NGOs, Chevening Alumna Aneeta Williams (International Consultant, Bridging Worlds Consulting) warned the audience to ignore safeguarding at their peril.
Alumni updates
To break up the panel sessions, Chevening Alumni from around the world gave presentations throughout the day, sharing their work, thoughts, and passions. These concise and fast-paced presentations provided fascinating insights, light relief, and sometimes emotion.
Debbie Widjaja (Indonesia) delighted the audience with tales of how her work at Facebook had taught her both that stupidity is borderless and the value of real connections.
Qiang (John) Shen (China) invited the Chevening community to celebrate diversity by joining a Chevening LGBT network.
Patsy Ho (Hong Kong) shared her dream of future cities built with people in mind, gathering in the most human of ways: around food and conversation.
Roumiana Atanassova (Bulgaria) demonstrated how Bulgarian Cheveners are giving back through an organised, and very effective, mentoring programme.
Oscar Rangel (Mexico) crossed borders by reflecting over Skype how the real wall between the USA and Mexico in his city of Tijuana was 'not a barrier to growth and development'.
Olga Tsetskova (Belarus) contributed her top tips for success, asking the audience to give up the illusion of multitasking and realise that you 'cannot do 10 things effectively.'
After feeding their minds with thought-provoking dialogue and debate, the gathered Cheveners ended the day by filling their stomachs with a traditional English afternoon tea of scones, cream, and jam.
The CAA is a registered organisation founded by Chevening Alumni who believe that our ability to influence and help our communities is strongly related to our networks, and how we collaborate together at a global level. It is run entirely by volunteers.