The essence of Chevening is to drive forward innovation and collaboration. To this end, The Laboratory was held on 7 November – an evening to encourage the sharing of ideas between alumni, with three chosen Cheveners giving a short pitch, outlining their idea for creating impact.
The event kicked off with a speed networking session among the attending alumni, before Miranda Thomas, Director of Chevening, began the main proceedings with an address, highlighting how global the audience was, even just within this small event. Truly, from among the guests, every continent was represented – Antarctica notwithstanding.
From all the applications received, three speakers had been selected to present their project, intended to create social impact in 2020. Naturally, the chosen ideas were incredibly diverse, given such a wide briefing, including a sustainability hackathon and an innovative new alumni directory. At the end of the night, the audience voted for the idea that they would most like to implement as a Chevening community. The winning idea, from Rasha Daya, will receive a personalised coaching session to help her make her vision a reality.
Read on to see what each alumnus pitched, and think what you would have voted for:
Rasha Daya
MSc Economic Development, University of Glasgow
At least 3.7 million refugee boys and girls are currently out of school, without opportunity for education. Only 63% of child refugees have access to primary education, 24% receive secondary education, and just 3% can go on to tertiary education.
This project aims to synchronise the efforts of the Chevening alumni to help refugee children learn so they can overcome the challenging life of displacement. This can be done by supporting the efforts of local and international organisation working in our countries on refugee education. Help is needed in all aspects of advocacy, raising awareness, mentoring, teaching, fundraising, research and media.
Bassel Hariri
MSc Migration Mobility and Development, SOAS
The Chevening Alumni Directory (CAD) is an alternative communication platform that aims to offer Chevening applicants the ability to contact Chevening Alumni. This would be intended to help them find Cheveners from their country, desired area of study, or university of interest and ask them questions that can support them in making their decisions before the last deadline.
This will allow applicants to reach out for guidance from people who have been through the same journey and have made hard choices on where and what to study. Moreover, it removes an overwhelming burden from the Chevening Secretariat in responding to thousands of applicants and helps the Chevening increase its local reach and inclusivity within the targeted states. Moreover, it gives some ownership to the Alumni over the local impact of Chevening in their countries of origin.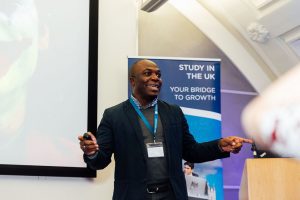 Tunde Agoro
MSc Environmental Engineering with Sustainable Development, Imperial College London
Climate change is a global crisis, but it requires local action. The time to act is now, as a Chevening family we must act. We've got our own share to embrace in the carbon footprint.  Nearly 2000 new Cheveners fly to the UK each year alone. This is why we need a sustainability hackathon.
This would involve a group of people coming together, working together, for an intense period of time to come out with practical measures to address specific challenges related to climate change. It's such a huge issue, no one person can tackle it themselves, but a body like the Chevening Alumni Alliance could really make a difference.