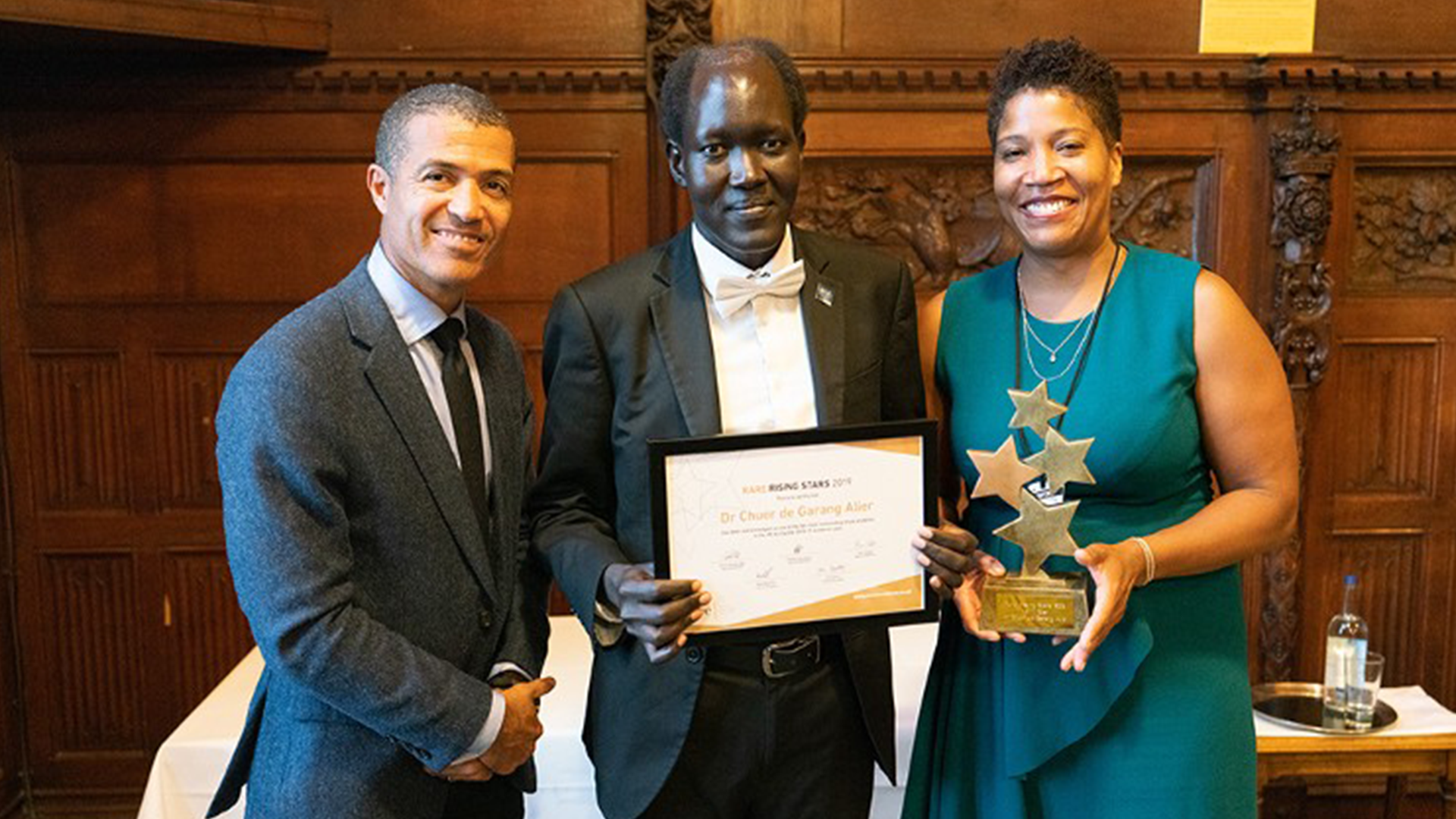 A dream conceived in South Sudan: Oxford scholar wins academic award
A Chevening Scholar from South Sudan is the overall winner of the 2019 Rare Rising Star Awards for his work on female infertility and challenging the stigma surrounding it.
Dr Chuor de Garang Alier (MD, MMed-OBGY), an MSc student in Clinical Embryology at the Nuffield Department of Women's and Reproductive Health, was given the top prize in awards which celebrate the academic achievements of African and Caribbean students in the UK.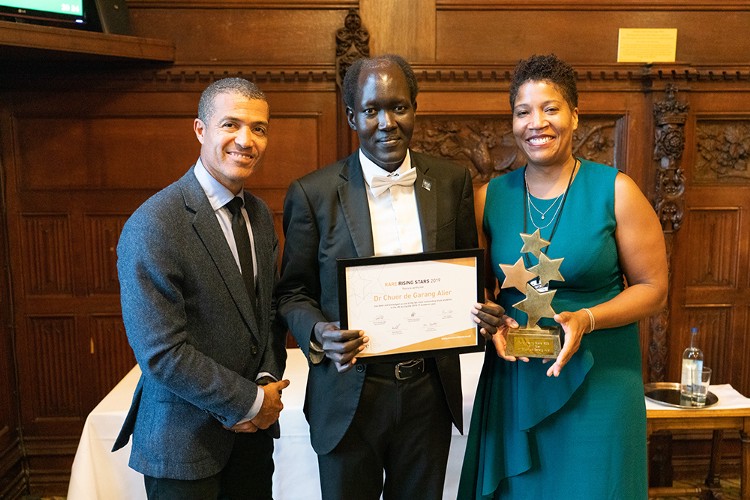 Chuor was born in 1984 in Bor Town, Sudan, shortly after the start of the Sudanese civil war. Seven years later, Chuor's father left his home village to join the liberation struggle, taking his young son with him.
A South Sudanese refugee, Chuor worked hard to finish school whilst living between internally displaced people's camps in South Sudan and Uganda. His school education was frequently interrupted and Chuor regularly had to restart his studies, often working under the shade of a tree until grass-thatched classrooms could be built.
With the help of scholarships and financial support from generous acquaintances and relatives, Chuor worked hard to complete his A-levels, followed by medical school in Tanzania. A scholarship, awarded by the Ministry of Health, Republic of South Sudan, in partnership with the United Nations Population Fund, allowed Chuor to specialise as an obstetrician and gynaecologist, with the aim of reducing the maternal mortality rate in South Sudan.
His motivation for his course of study in the UK came through painful experience: being unable to help heart-broken couples have the child that they wanted whilst working as an obstetrician and gynaecologist in South Sudan.
Through his work in the field, including research on sperm cryopreservation, he now has the knowledge needed to help people conceive and potentially reverse their infertility. Chuor is also working to end social stigma around infertility, highlighting its links to the emotional and physical abuse of women.
Chuor wanted to share his story so that his fellow South Sudanese in the same IDP camps inside South Sudan, refugee camps in Uganda, and all over the region, can see that they too can study at Oxford, even if it means patience and perseverance through challenging times.
Chevening: Congratulations on being awarded the number one 2019 Rare Rising Star award. What made you want to become a doctor?
Dr Chuor: It's always been my dream to be one. However, my dad had better ideas as he wanted an economist out of me, but I think I made a strong case for myself to become a medical doctor.
The fact that I made the choice for myself has been my greatest source of inner strength; I learned to take responsibility for my decisions. But, more importantly, own up to the consequences of such decisions.
What made you want to specialise in your particular area?
My interest in assisted conception, and embryology in particular, was a result of my interactions with couples struggling to have a child because of infertility in my practice as an obstetrician and gynaecologist. They often had to go away broken-hearted that I could not help them more, and I grew frustrated by my lack of specialist skills in this area.
It's a challenge I embraced. I hope, with this foundation training I have had, I will get more opportunities to gain the experience required to be helpful to those in need of such services.
I have, with a deep sense of sadness, seen infertility bringing strain in marriages. This often becomes a gender equality issue, escalating into the emotional and physical abuse of women.
What does your research aim to achieve?
My research was mainly about cryopreservation of sperm, and the use of nano-technology and rare earth metals. I was investigating their ability to overcome known challenges associated with the oxidative stress that reduces the quality of frozen-thawed sperm samples.
I hope that my research can help to tackle the great stigma attached to infertility and the stress that it brings to families.
How did you find out about Chevening and what made you want to apply?
I found out about Chevening through my former high school friends who had received the Chevening Award. They convinced me to give it a try. I gave it my all and I was honoured to have been selected among many gifted applicants.
How have you found your year in the UK with Chevening?
It's been a great experience in general. There are many ways to get a degree, but the more exciting way is to come to get one at the University of Oxford. Certainly some of my friends from the 'other side' (the University of Cambridge) will politely disagree with me. My experience here has made me grow in many aspects, and some of that growth only happened out of my comfort zone.
My stay here in Oxford has exposed me to exceptional scientists including those involved in research such as fertility preservation among pre-pubertal boys and girls who survive cancer following treatment.
What do you plan to do now that you have finished your studies?
Now that I have successfully completed my studies I look forward to more training as a clinical embryologist. I hope to have a rewarding career by achieving what I initially set out to do: helping end the stigma against infertility by helping couples to have the child that they desire so much. There is great satisfaction in service to humanity.
Of late, assisted reproductive technology has been in the news for things like gene editing and fertility preservation among childhood cancer survivors. This generally brings up a whole debate, and rightfully so, about ethical considerations and what the future holds.
It's an interesting time to be starting out in training as a clinical embryologist. The current debate is reminiscent of the early days of this field following the birth of Louise Brown. She was the first IVF baby, born in 1978, resulting from the work of late Nobel Laureate Sir Robert Edwards and his colleagues.
Do you have any advice to young people building their futures in challenging circumstances?
I hope South Sudanese school children currently in internally displaced people's camps in my country, and refugee camps in the neighbouring countries, find my story an inspiration to them. I hope that they see it as a sign that these difficult days shall come to pass — like all the days before them during my time in similar situations.