Chevening Scholars celebrated contributing more than 3,000 hours of volunteering in the UK this year at an awards ceremony held in the Foreign and Commonwealth Office.
144 scholars from the 2016/2017 cohort have given their time to charities around the UK for a variety of causes, including beach cleaning, tree planting, organising squash games, helping students with their reading, working in charity shops, and much more.
The celebration in the FCO's Map Room opened with an overview of the Chevening Community Volunteering and Outreach Programme by programme officer Susie Pike. Andrew McHallam, Head of the FCO's Scholarship Unit, welcomed scholars to the event and then presented the scholars' awards.
Bronze, silver, and gold volunteering award certificates were given to scholars from universities across the UK who had volunteered for more than 30, 70, and 100 hours respectively. You can see a list of the 37 volunteering scholars who were given these prizes below or you can read more about how hours are logged through our online log-book here.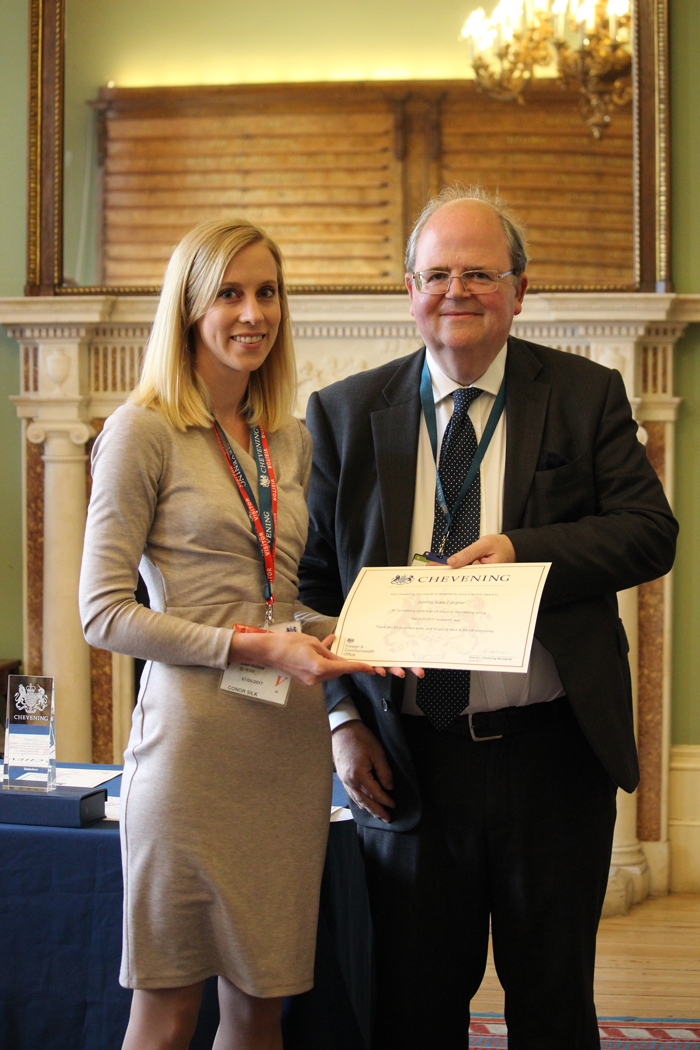 Three special awards were also presented to scholars who had made outstanding contributions to volunteering during their time in the UK, with their volunteering making a significant impact on its beneficiaries.
Avinash Jasgray, from Mauritius, studying an MSc in Project Planning and Management at the University of Bradford was awarded 'Scholar-Led Volunteer Project of the Year'. This was for bicycle-based volunteering work organised with the help of Choices 4 All, a community volunteering scheme run by the University of Bradford.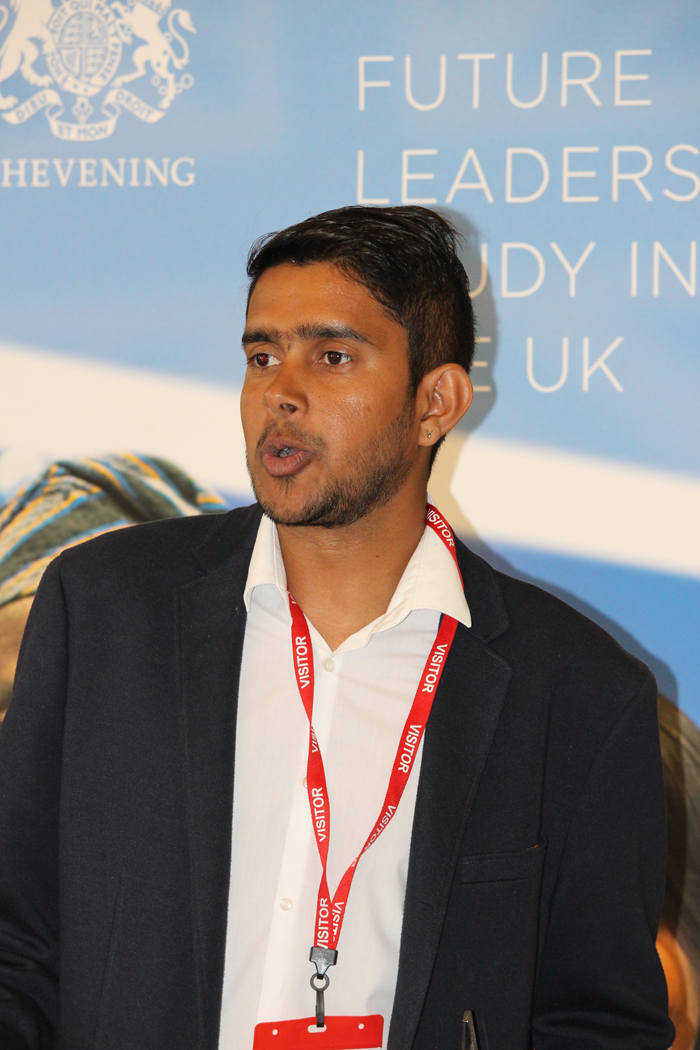 Avinash co-lead the 'Capital of Cycling' project, which aimed to establish and run an inclusive cycle hub for disabled and non-disabled citizens in Bradford. Through C4A, Avinash helped to organise and run a 425-mile charity cycle ride from Bradford to its twin city of Roubaix in France.
The 'Green Volunteer of the Year Award', an environmental prize, was awarded to Benjamin Ong Jia Ming, who is from Malaysia and is studying an MSc in Sustainable Development at the University of St Andrews.
Transition University of St Andrews is a collective encouraging sustainability in St Andrews. It aims to support the community in low-carbon living and practical environmental activities. Benjamin volunteered in several roles for this community organisation including volunteer communications, vegetable-growing, and coordinating cycle schemes.
Benjamin said: 'Chevening prizes leadership, but leadership is not always about being at the front. Often it calls for hard work behind-the-scenes and I would like to thank the Chevening Secretariat for recognising this.'
The 'Volunteer of the Year Award' was given to Kudzai Midzi from Zimbabwe, who is studying an MSc in Organisational Change and Development at the University of Manchester, and managed to undertake 220 hours of volunteering. Kudzai set up the Tugwi Trust (UK) and organised Chevening Scholars from Manchester to sponsor a Zimbabwean child for a year. He also took part in squash beginner coaching programmes, which will enable him to continue squash training with the Zimbabwe Squash Academy on returning home.
Kudzai said: 'When we do this voluntary work we are already being rewarded, so this almost feels like a double reward, because there is so much that we get from giving.
'In doing this work I was also able to create amazing, diverse networks with people from all over the world, and I'm making sure I keep in touch with all these people after I leave.'
Andrew McHallam thanked the charities, stakeholders, corporate and university partners who are involved with Chevening, before praising the assembled scholar volunteers.
He said: 'When you come to the UK to do a course, first of all you have to settle into your new home, you have a demanding master's course to study for, and an exciting Chevening programme to get involved with.
'To be able, on top of that, to give something back to a community that you perhaps do not know so well is truly admirable.'
'Please take away the experiences that you have gained with us in the UK and stay in touch with us. We look forward to a longstanding friendship with you in the years to come.'
Scholars were then given a chance to network with their fellow volunteers over drinks and canapés, before being given a tour of some of the historical and beautifully decorated rooms in the Foreign and Commonwealth Office.
---
Certificate winners
Chevening volunteering gold award winners (100 hours or more):
Kudzai Midzi
Avinash Jasgray
Anjorin Ajibola
Benjamin Ong Jia Ming
Silver award winners (70 hours or more):
Hannah Chhon
Jacob Said Netto
Constância Maritza Camilo Quitério Pavanito
Dewa Ayu Diah Angendari
Man Ching Tam
Chin Aiying
Tamara Mohammad Saeed Jalajel
Bronze award winners (30 hours or more):
Sharanya Gautam
Julia AlbinoAmir Abdel Baki
George Kapatayes
Nicolette Bryan
Cindy Natalia Molano Camargo
Justine Fargher
Chilombo Montah
Saknakosnak Prum
Cherene de Bruyn
Khairunnis Ash'ari
Christine Go
Ngo Bibaa Lundi Anne
Bawan Pshdary
Sarah Hasan Omar Al Shurbji
Sulipta Das
Abigail Caleb
Shannon Grant
Yousef Ghatfan Alky
Aleksandra Simoska
Lan Zhong Yan
Nanak Hikmatullah
Clarissa Maria Carcamo
Francis David M. Roque
Uchenna Igbokwe
Maria Camila Pantoja Ruiz