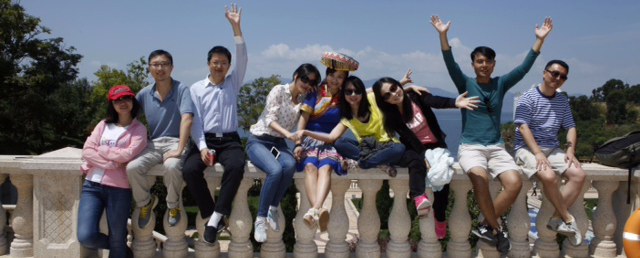 As 2015 draws to a close, we look and reflect on this year from an alumni perspective.
From the alumni relations team and throughout the Chevening staff body, we applaud all the fantastic alumni activities that have happened all across the globe, many with support from the Chevening Alumni Programme Fund (CAPF).
An innovative photo exhibition in Namibia, exploring the Magna Carta from a Macedonian perspective, a Chevening talks series in Israel, and coming soon, the alumni group in Bolivia are on track to deliver a public forum this month.
There are so many excellent stories, but a special mention should be given to China where a packed schedule of events has seen at least one alumni event take place in every single month of 2015. Take a look below at a few examples of what Chinese alumni colleagues have been up to in just the past four months alone, in all areas of the country.
AUGUST
33 alumni and three consulate staff got together at the Fuxian Lake in Yunnan for the 2nd Southwest China Chevening Alumni Annual Gathering. They visited the Fuxian Lake Solar Observatory, brainstormed on how to better promote Chevening in China, and played ice breaking ethnic games.
SEPTEMBER
26 alumni and five embassy staff went on an exploration of Songzhuang Art Village in the suburbs of Beijing, organised by the alumni association. They were treated to a talk by an artist who specialises in Chinese traditional painting of the Yellow River.
OCTOBER
Class representatives from Chevening years 2009/2010 and 2004/2005 helped organise a picnic style reunion event for alumni from those years, and their families, around the theme of 'Sharing'.
NOVEMBER
42 alumni gathered in Hangzhou, Zhejiang Province, for a cultural and social day out: A boat trip, a visit to a creative start-ups industry park converted from a cement factory, alumni presentations on creative industry in China and innovation in the healthcare sector, and networking.
Alumni volunteer group held a training day in Beijing for committee members. This was the first time since the group's creation in 2008 that they had seven hours to sit together, share ideas, and think about the process of organising events.
Staff in Chongqing led a cultural visit to the old British Consulate building in Tengchong (border of China and Myanmar), built in 1899, with discussion on the long history of China-UK bilateral relations and a talk by the director of a local NGO on their work helping local children's health and education.