This year, over 550 scholars and representatives from 20 Chevening key partners gathered at the iconic Alexandra Palace to celebrate the end of the 2014/2015 Chevening year and say goodbye.
Senior Alumni Relations Officer, Aba Quartey, spoke about the vast array of opportunities available to Chevening alumni and encouraged all scholars to be a part of this ongoing worldwide network. Aba outlined the importance of staying in touch and being an active member of the Chevening community, and talked about Chevening Connect, an exciting future development that will enable alumni to contact each other and benefit from the network like never before. She then introduced Laura Vanessa Muñoz, the head of the Chevening Alumni Alliance, who explained the numerous benefits of being part of an alumni association.
Following the alumni briefing, the scholars, partner representatives, and Chevening staff gathered to listen to a speech given by Rt Hon Hugo Swire, Minister of State for the Foreign and Commonwealth Office. Minister Swire emphasised the value and prestige awarded to Chevening scholarships and encouraged all scholars to keep in touch with the UK as they progress in their careers.
The event concluded with a drinks reception on the terrace overlooking London's famous landmarks. Scholars had the chance to share their memories with each other as well as engage with partner representatives and Chevening Secretariat staff.
Scholars arriving at Alexandra Palace.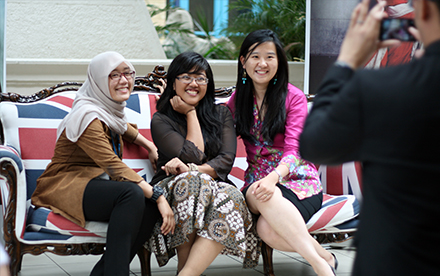 The GREAT sofa photo opportunity wasn't missed.
Scholars gather in the auditorium for the briefing session and speeches.
The Minister delivers his farewell speech.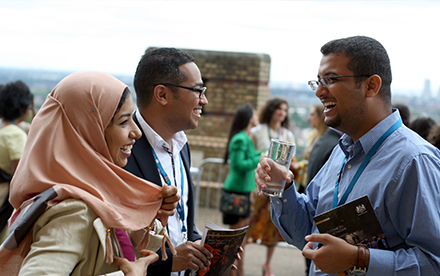 The reception starts on a beautiful terrace overlooking London.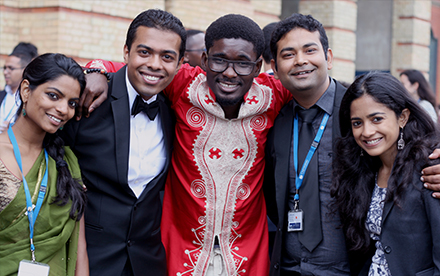 Scholars say their goodbyes and have a drink together for the last time.