Chevening Scholars gain exclusive access to 10 Downing Street for fascinating tour
Chevening Scholars had the privilege of an exclusive tour of 10 Downing Street on Wednesday, 12 April, the official residence and office of the UK Prime Minister.
24 scholars won the chance to get a rare glimpse behind the famous black door, inside an historic and elegant building where key decisions have been taken in the UK since 1735, including this week's decision to call a general election.
Chevening is the government's international awards scheme aimed at developing global leaders and the visit provided a unique opportunity to learn about political leadership and democracy in the UK.
Exclusive access
Scholars gathered excitedly on Whitehall outside the solid black gates leading into Downing Street at 10:00, before passing through airport-style security to enter the iconic street.
Stepping inside the black door, scholars were greeted by our two knowledgeable Downing Street tour guides. These civil servants had served under six previous prime ministers and provided history during the tour and answered (most of) scholars' varied questions, both political and personal.
The first stop on the tour of this working office was the Cabinet Room. Here government ministers meet weekly to discuss matters of state, assembled around a long, green baize-topped table. A pencil sits at each place around the table, sharpened and ready to take notes.
Scholars then climbed the Grand Staircase. Number 10 has been home to 47 prime ministers and scholars gained a sense of the building's history by inspecting the paintings and photographs of prime ministers past which lined the walls.
The staircase was recreated on a film set outside of Downing Street for a famous scene in the 2003 film Love Actually, where Prime Minister Hugh Grant dances down the stairs.
Prime Minister David Cameron was said to be a fan of British artist Tracey Emin and her work, a red neon sign spelling out 'More Passion' illuminates a room just outside the White Drawing Room. There is also a small display case holding lunar dust from the Apollo 11 space mission, scooped from the moon's surface during their 'great leap for mankind'.
Welcoming foreign visitors
Scholars were then taken in to the White Drawing Room. This room, overlooking the Downing Street garden, was once the bedroom of Sir Winston Churchill. It is now used as a backdrop for television interviews and scholars sat where former president Barack Obama and other previous visitors and dignitaries had recently posed for the traditional 'handshake' photograph.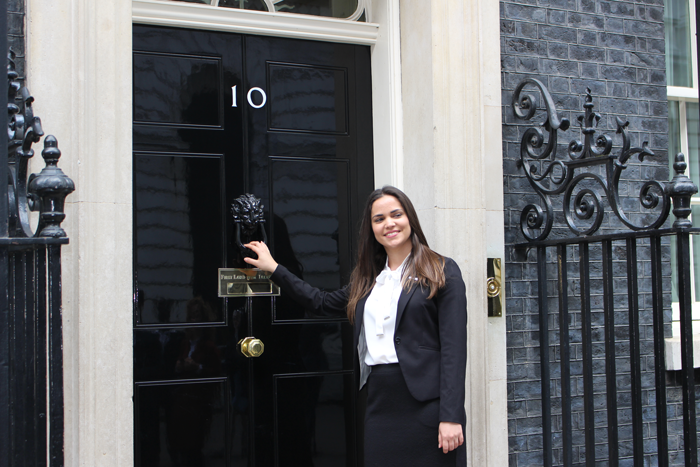 The White Drawing Room contains works by one of the most famous English landscape painters of the nineteenth century, J M W Turner.
Chevening Scholar Camila Adames, who's studying an MSc in Latin American Politics at University College London, said: 'I was surprised by the simple, yet elegant decoration and design of 10 Downing Street.
'It is clearly a highly functional place, made to be as efficient as possible. The frugality, considering it is the official residence of the Prime Minister of one of the world's leading powers, really struck me in a very positive way.'
Next door is the ornately decorated Terracotta Room which also houses famous works of art, on loan from the Government Art Collection. When Margaret Thatcher came to power this room was named the Blue Room, and she had it re-decorated and re-named the Green Room. Scholars were amused to learn that Thatcher gained permission after it had been re-decorated.
Next up on the tour was the wood-panelled State Dining Room. This room is used to host the prime minister's press conferences and in 2010, David Cameron had the room cleared out for a match against British tennis star Andy Murray.
Chief Mouser
A fascinating trip was rounded off with a sighting of the Downing Street cat, Larry, Chief Mouser, curled up and having a nap near a radiator in the black and white tiled entrance hall.
Scholars then thanked our tour guides and gathered for photos outside the iconic black door before making their way home.
Chevening Scholar Camila Adames, who's studying an MSc in Latin American Politics at University College London, said: 'Considering the history of the site, I was expecting the tour to be fantastic, and it certainly was, thanks to the wonderful insight provided by our guides.
'They really gave us a feel for how a day's work is at 10 Downing Street and how this has changed with the different PMs dating back to Margaret Thatcher.
'Getting that inside look into the heart of the British government definitely works as a great incentive to work hard toward being invited there in the future, hopefully by the Prime Minister!'